sunday
church is cancelled today. i feel bad for dad with all the work he put into the cantada (sp?) and it's not even happening today. i'm sure they'll do it next sunday, but still… all the work he did this past week? sigh. but on the bright side – i got to sleep in (after feeding samantha a few times, that is)!
i worked really hard last night on sam's announcements. i think i'm about half way finished with them. that means it's VERY POSSIBLE that announcements and our Christmas letter will be mailed tomorrow….. hopefully we can take a family photo today to add to the letter! here's a glimpse of the project before my work-a-thon last night: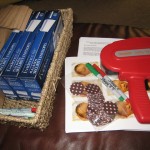 i did have to take a trip to Treasury yesterday to make some copies for the announcements. since i was already in town WITHOUT ANY KIDS, i took the opportunity to pick up a few final Christmas gifts. i am officially FINISHED with my shopping. yee hah! i must also state that it felt good to get out of the house for the first time in a few days… and to be out without the kids was a real treat! i love that Dave is confident and competent enough to stay at home with both kids. granted, i waited to leave until they were BOTH napping, but he's been home MANY A TIME with both kids WIDE AWAKE (and none-too-happy)!
last night dave and davey headed to the grocery store. dave needed some items to make pepper jelly. this was davey's look before leaving the house: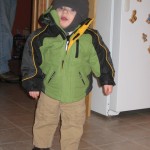 i LOVE this jacket (it goes with the snow pants from the photo the other day)! and look at him… his little brown shoes with his khaki pants… and that grey hat i found on clearance at target (about $1.25) last winter… he is too stinkin' cute! speaking of cute… if you have facebook, check out my page or dave's page… we have a video of davey trying to say "snow!"
sam was equally cute yesterday: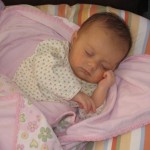 she's wearing my favorite outfit (i'll have to get a better photo of it one of these days). it's an outfit my mom bought for her (size newborn) and then my friend Christy bought the SAME outfit in the SAME size…. so Christy was able to exchange it for the next size (0-3 months)! so i have another month or so of seeing sam in this sweet outfit.
while at the store yesterday i got to pick up this: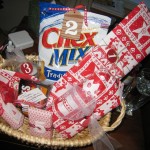 my gifts from my "secret santa" (love you, tammy t!). see that bag of chex mix? it's almost gone already. in one sitting. i ate almost the whole thing. i'm ADDICTED to that stuff right now. and wanna know something crazy? i had never eaten chex mix before thanksgiving day. seriously. i always assumed i didn't like that stuff. but now i know better. my taste buds have changed and i have found a new best friend. good thing, too, 'cuz i've had to give up chocolate and orange juice (two of my favorite things, though not at the same time) for sam. actually, i do sneak in little amounts of chocolate from time to time. but very little. i don't sneak the oj, though. she notices that pretty much immediately. but back to my basket. it was filled with all kinds of fun treats. and each item was numbered so i could have one thing each day. i opened them ALL yesterday, though, because i was SUPPOSED to have them from the 8th to the 13th… but i never made it into the store to get any of them! my favorite item was from day #1…. a package of scrapbooking embellishments – very pink and very fun…. owls (you know how much i love owls), mushrooms, rainbows, hears and cute "girlie" things!
one final thing: on friday, i decorated our tree. i wanted to get all the Christmas boxes off of our dining room table! i also pulled out our inflatable snowman. i thought davey would LOVE him. i guess my timing was off. see, the snowman was inflating. sam had a major poo (first one in 5 days, so it was HUGE) and i had to take her upstairs to change her clothes and change her diaper. unfortunately, the snowman was in our small entry way, which means he was somewhat blocking the stairs. davey started crying. then he basically screamed. and he had these HUGE crocodile tears on his cheeks by the time sam and i got back downstairs. i felt awful. so i had to show davey the snowman. that he wouldn't hurt davey. that he was inflatable. that he could fit into a small box. it was only then (when the snowman was safely back in his box) that davey really chilled out. and the curious boy that he is, he ventured over to the box and had to get the snowman out. and he wanted him plugged in. and since then, the snowman has been a friend to davey. but it was touch and go there for awhile!