wednesday
merry christmas eve to you! we have lots of fresh powder (fluffy snow) on the ground and it's beautiful. so beautiful… especially because i don't have to drive in it (though dave is thinking he'll have to go get his family for tonight's festivities)!
we'll have appetizers & dinner (chili made by dave & potato soup made by dave's mom) here tonight with dave's family. we usually watch a movie (probably A Christmas Story) and then when they leave we'll open 1 gift each and head to bed.
sometime between going to bed and getting up in the morning we'll fill stockings and put the rest of the presents under the tree (i prefer to have all gifts under the tree throughout the season, but with wild boy davey, i opted to leave them all upstairs for now)! in the morning we'll open gifts and have breakfast and get ready for the day and then dave's family will return for a day of fun! more gifts, lots of food and just relaxing together as a family.
sounds nice, eh?
yesterday, davey got his hair cut (he wasn't as good about it as last time) and he also decided that our inflatable snowman is his friend!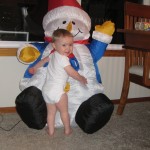 and sam was just being cute yesterday: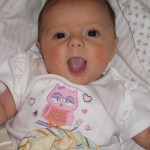 have a great christmas eve day & evening!!!