Monday
this is his face of pure glee: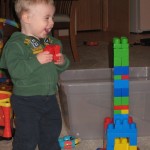 we love to build towers with his new duplo blocks (thanks, grandpa & grandma – we've got HOURS of entertainment happening with that set)!
when i look at this picture, i swear i can hear him laughing (well, giggling)… and it's the sweetest sound in the world (next to hearing him say "bye bye!").