it's snowing! looks like the snow storm we were supposed to get last night is actually arriving now. the kids and i ventured out this morning to mail some Christmas packages (last minute, i know). we have the subaru today so dave can get an oil change in the pathfinder. thankfully, dave put the snow tires on the subaru last night… i sure needed them! after spending WAAAY too much money to get stuff to NY and PA on time, i headed to my in-law's home to feed sam (it took longer than i thought to send the packages – thankfully we have a place here in town that has a drive-up window!!!) and then head to the grocery store. mom watched the kids while i "ran" to the store.
when we stopped at grandma's house, there was less than an inch of snow on the ground. when i got back from the grocery store, there were several inches… and i decided to get the kids and head home so we wouldn't get stranded. then again, getting stranded might've been nice – extra help with the kids! driving home wasn't so bad. i actually did pretty well and didn't mind driving in it… i just hope dave can get home safely from bellingham (and that it won't take an hour or longer!)!
in total randomness, here's my sweet boy having a blast saying "hi!"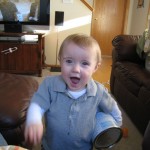 and this photo shows you my new favorite face that he makes: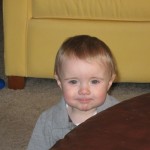 that little bottom lip comes up… not in a pout… just a face. so cute!!
sam's doing okay. she's been extra fussy that past few days – i'm sure it's related to that whole milk incident from sunday (these things happen… i have no hard feelings for anyone). the extra fussiness means LOTS and LOTS of holding her or dealing with her wrath (lots and lots of crying). which, in turn, means i don't get anything accomplished…. like decorating the tree, doing laundry, cleaning the kitchen, cooking dinner, making cookies (and other treats), cleaning the house, finishing Christmas presents, addressing Christmas letter envelopes, etc.
no new photos of sam… i apologize. she's definitely becoming more alert – she's awake more and she smiles a lot. poor thing, though, is covered in baby acne. i know you don't do anything special for that, but is there anything i should be doing (or not doing)? should i give her a bath every day or two? should i use or avoid lotion with her? davey never had it this bad.