saturday -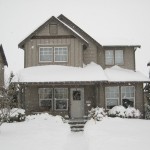 so our long holiday week is almost over. we've had a LOT of snow and i've loved every minute of it even though i didn't get out to play in it (or even to shovel it). my boys got out there, though:
davey LOVED being outside in the snow and no matter how cold he got, he did not want to come inside. i've got my work cut out for me in future years, eh?!
dave had wednesday and thursday off from work and he took friday off, so we've had a few days together and we've really enjoyed relaxing and playing with the kids. wednesday was pretty busy with preparing for dinner that night and the festivities the next day.
over the past week, davey has learned to love frosty: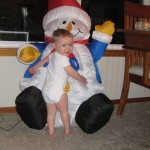 and the wind finally settled down so we moved him outside on our porch (where he belongs).
and over the past week, he's started to say "cheese!" when we take his photo… the funny thing is we never taught him that. neither did any of our friends or family members. so where did he learn that? we have no idea. but it's pretty funny: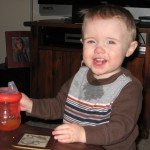 Christmas was fun (though samantha was difficult first thing in the morning). davey was really good at digging presents out of his stocking (though, as anticipated, he wanted to eat everything right away). and he was really good at opening presents, though i think he got a bit overwhelmed after awhile since we opened our gifts to each other, our gifts from my brother and his family, from great grandpa & great grandma dunkin in ohio and from my mom. there were just too many gifts for him (we may have to change how the kids open gifts next year since my mom sends MULTIPLE presents to each child).
here's a little glimpse of davey throughout christmas day:
(elmo from nana; driving rug from daddy & mama; reading the christmas story with grandpa; playing musical instruments from uncle sterling & auntie rachel; visiting with great granma lou)
samantha, dave and i got spoiled, too. dave got his three most wanted presents: HD Tivo (from me), a posing stool – for photography (from john & babi) and a french press (from his parents). i got eye-fi from dave. it's a special memory card that wirelessly links my laptop and my digital camera so i don't have to take the time to find a cord and download my photos from my camera to my laptop. what this ultimately means, however, is it's one less step that i need to take to share my photos here! sweet, eh? i also got new pjs, a matching hat and scarf, a necklace, books, a gift certificate for a massage (and/or pedicure), new clothing and so much more. davey loved all of his gifts and even some of sam's (she got a bumbo seat from john & babi and davey LOVES to sit in it…. good thing they ordered orange instead of pink!).
we had a great day relaxing at home with dave's family. dinner was delicious (a combined effort by dave's mom and i) and then we all headed over to great granma's for a visit since she couldn't make it out in the cold and snow.
dave spent all day yesterday in his pjs. we watched indie films through our instant queue on netflicks and had a great time just relaxing and enjoying each other's company. we hadn't had a day like that in a long, LONG time.
today it finally warmed up so the snow stopped and turned to rain. all the beautiful inches and inches and inches of snow turned to yucky slush. dave went to fibercloud in the afternoon to get some work done for pogozone while i stayed home (again!) with the kids (i don't think i've left the house in a vehicle since last tuesday!). grandpa & grandma stopped by for a little while. grandma got to feed sam a bottle (she had her first taste of formula on christmas eve day and was fine with it… amazing!) and grandpa got to play with davey – they really enjoyed building with his new duplo blocks: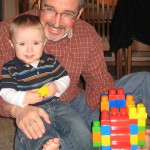 and that, my friends, is a very quick summary and recap of the last few days. i'm already missing the snow, though there's still plenty outside to look at. i wish i had gotten out to play in it while it was beautiful, white, fluffy powder. hopefully this isn't that last good snowfall of the season… i'm hoping we have many more to come… i've gotta get sam all dressed up and out in it (at least for a picture)!
i'll have to provide an update on sam later. right now i'm going to watch Tropic Thunder with my dear husband and then tomorrow we'll go to church to finally experience all the hard work dad put into the Christmas Cantada this year.