how is it December already? have i started our Christmas letter? no. have i even done Samantha's birth announcements? no. have i planned my Christmas shopping day? no. have i figured out Christmas presents for anyone yet? no. i'm WAAAAAAY behind this year!
but today let's talk about what i do know…. Samantha is 6 weeks old today. i forgot to take her photo at one month, so here's what i took yesterday to be her one month photo: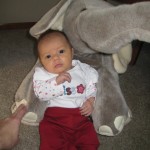 hopefully i'll be better at taking her photo with the elephant on her 2, 3, 4, (etc) month "birthdays."
and here's a super sweet photo of her… i did NOT pose her. she chose to put her own hands under her head and sleep. (and yes, that "little chick" onesie is one of the talented Miss Carly's creations!)
i LOVE this photo…. it's my new favorite!
Sam is still a sweet little girl. She started on a prescription for Zantac (to help with her acid reflux) earlier this week. i do think it's helping. she still has some very fussy periods (randomly during the day and/or during the night) but i think overall she's had fewer fussy times. fewer screaming episodes. and less screaming has led to less gas. not no screaming and not no gas, but less. she seems more content. and it seems like she's not in continual pain. so we'll keep going with the medicine for another week and a half and hopefully we'll see a drastic difference. on wednesday we had a really good day regarding spit up…. there was hardly any. but there was quite a bit again yesterday, so we're taking that one day at a time. her favorite "calming" technique remains NOT the pacifier and NOT her hand…. it remains a finger. yep. mine. or dave's. proof positive: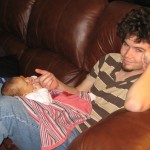 i do this ALL. DAY. LONG. and sometimes ALL. NIGHT. LONG. while driving. while pushing the shopping cart (including the over-sized carts at costco). while watching tv. while cleaning. while doing just about anything. i do a LOT of typing one-handed (which is why some of my posts are short…. and some of my e-mail messages to you!).
in other news, this weekend is our 2nd to last craft show of the year. we had the MOPS show yesterday (i made about $50) and then there's a big one today and tomorrow. hopefully i'll sell a LOT of stuff. i haven't yet broken even with purchasing supplies to make all that i made for the october show. be prepared, though…. if i don't sell out of some of this stuff, some of you will see the items as your Christmas presents!! :) okay. maybe not. i'll likely open an etsy shop. i'll keep you posted, k?