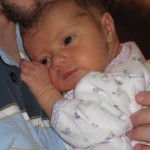 i hope this little girl will always want to lean on her daddy!
yesterday, sam turned 2 weeks old. she is a delight to all who see her. she's a sweet girl who cries when hungry and gassy/constipated. she's already such a good little girl – usually only waking 1-2 times a night to eat. she eats like a champ (though there are still some latching issues she hasn't learned). she does spit up, but not nearly as much as davey did. she LOVES to be held and cuddled. she hates her car seat. she's got a variety of expressions already and she does enjoy smiling. she can burp with the best of them (seriously – they're LOUD). she still folds her little legs up to her body (i don't even try to put her legs in the leg holes of her sleepers!). she's loves to look around – especially at lights – when she's awake. she has a long tongue (reminds me of a giraffe) and she likes to stick it out a lot! she still has a lot of dark hair and her skin coloring is darker than davey's. she startles easily and does not like getting a bath.
she saw the doctor yesterday and he says she's doing great. her jaundice is almost entirely gone (praise God we didn't need to do the light bed or any other home or hospital therapy!) and she's "out of the woods" regarding her weight. here are her updated stats:
- she's grown an inch (now at 20 inches long)
- she's weighing in at 6 pounds 5 ounces (1 ounce less than her weight at birth and a gain of 7 ounces in just 4 days – i didn't think that was possible… the visiting nurse/lactation consultant told me they like to see a weight gain of 6 ounces a week during the first month or two).
and, so far, davey still loves his little sister! he doesn't pay a whole lot of attention to her…. he's off in his own busy little world, but when he realizes she's there, he loves to touch her head. and now he's starting to grab her nose and poke her face… we're working on stopping those issues! :)