a very happy and belated thanksgiving from our family to yours: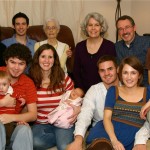 mom & rachel cooked. i cleaned the house so all 12 of us could enjoy the day together under one roof (dad & mom are in the middle of a remodel/addition). it was a relatively relaxing day and a good day to enjoy family time. samantha has been extra needy (eating every 2 hours – must be her 3-week growth spurt at 5 weeks).
then yesterday dad, mom, sterling and rachel came back to our house and we played games and relaxed and consumed the leftovers. and sam still wanted to eat every 2-3 hours. and she's extremely gassy. can't seem to get that out of her system, which is frustrating b/c she just cries and cries and cries and cries…. poor little girl.
speaking of my poor little girl, she's crying again. she ate 2 hours ago so it must be time again. gotta run!