yet another dreary, rainy day here in lynden. thankfully, my spirits don't feel that way! on saturday, grandpa & grandma took davey all day. dave cleaned our windows (you can actually see through them again!) and i got to PLAY in my craft space. seriously. i'm doing a "thankful" mini album/journal for this month. (for those of you who are scrapbookers, i'm simply using ali edwards' december daily idea and i'm doing it for november instead – i know that there will be many days like last friday, especially once dave goes back to work, and i want to make myself DAILY find things for which i am thankful). then the three of us (dave, sam and i) went to starbucks for a date… and the grocery store and then we spent some time with davey, grandpa, grandma & uncle tom before heading home (with davey). it was a good day. not without frustrations. but a good day. a nice little break for us (especially dave, who has been on constant davey duty since coming home from the hospital).
davey is still doing really well with his baby sister. he LOVES sam so much. he loves to touch her head (hair) and to point at her nose and eyes. thankfully, the pointing hasn't turned into poking yet (we're still pretty quick to grab his hand!). i finally put sam in his lap over the weekend and he was ELATED. dave has some good shots on his PICASA site, but here's one of mine:
davey hasn't shown any jealousy towards sam, which is amazing. we do think, however, that he misses his time with his mama. i'm trying hard to spend more time with him each day. and he does seem to go to bed (at night) a little easier for me than he does for dave, so i'm working on making that some special mama-davey time right now. that might change when dave goes back to work and daddy's not here all day… davey might miss his daddy-davey time. for now, however, we're working hard to adjust to being a family of four. parents with two kids.
i'm still in shock, a bit, that we're parents of two. i was still learning how to run errands and do things with one child and now i have two. so i'm starting the learning process all over again. crazy. that and my 15-year high school reunion was this weekend. i didn't attend (it's a long way back to pennsylvania) but through the joys of facebook, i've been able to reconnect with several of my high school friends. it's so weird to think back 15 years ago…. i still remember people's faces. our clothing. the music. the movies. our "drama" moments. and it's still so fresh in my mind. but it was over 15 years ago. that's crazy. and now, so many of us are parents. the passage of time just boggles my mind sometimes.
on sunday we had planned to go to both sunday school and church. but when i woke up at 9 a.m., i realized sunday school wasn't going to happen (it starts at 9:45). but i wanted to at least make it to church on time (instead of late) so i got up and got moving…. showered, dressed, hair & make-up. got davey dressed (he was already up and playing with daddy). got sam dressed and then fed her while dave got ready. i was bummed we weren't going to make it to sunday school and said so to dave. then he made a comment about the clock and i realized that we had gained an extra hour overnight…. which meant if we left right away, we'd only be a few minutes late for sunday school… so we got up to go and guess what? beautiful little sam PROJECTILE SPIT UP over her ENTIRE outfit. and in my hair. and in my mouth. yum. her little outfit that i had picked out WEEKS earlier to be her first "church" outfit… covered in spit up. not even an entire package of wipes would help. so i quickly changed her into another (equally as cute) dress and we zipped out the door (dave did use a wipe to get the spit up out of my hair and off my lips)! here are a few photos from the afternoon of sam still in her dress:
this morning i promised dave that i would take the kids to play group so he could have some downtime. we got a late start, but we did make it to play group (and we weren't the last arrivals!). davey's nose was dripping like a faucet (all clear, though) so i hope he didn't spread anything to the other kids… i think he's teething (again…. still….). to our delight, though, lisa made it to play group with her THREE boys…. caleb was born about 18 hours after sam (i got to be their first visitor in the hospital – while wearing my slippers and gown)…. so of course, it was a kodak moment. now give lisa and i credit…. it's not a stellar photo of either of us, but we were both dressed and had on make-up: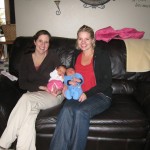 sam was 6 pounds 6 ounces when she was born. caleb was 8 pounds 8 ounces when he was born. quite a difference in size even though they're both small (compared to our others). ya never know what the future holds, though…. these two may end up dating or getting married one day and i'll have this photo to share! :)
after play group, it was off to dr. dickson's office for another weight check for sam – she's up to 5 pounds 14 ounces, so she's still gaining weight. i'm doubtful that she'll be back to her birth weight by friday (for her 2-week check up) but at least she's still gaining weight – that's what's most important right now. and she's not quite so orangey-yellow anymore, either. i took a photo of her on the scale, but i probably shouldn't share it b/c she's completely naked and she's not hiding anything from the camera!
and here are two new photos of the doodlebug…..
here he's playing "bucking bronco" with daddy (think davey likes it?):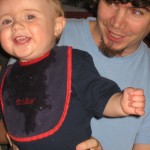 and here he's reading one of his favorite books – a little people book with fold up flaps!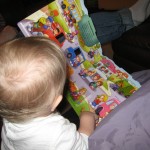 and i want to say THANK YOU to all of you who have commented on my blog or have called me or have sent me an e-mail or have talked to me…. THANK YOU for your words of encouragement regarding being a mom, nursing, and everything else. i am THANKFUL for all of you. God has richly blessed me with an amazing support group of friends – both near and far away – and i can honestly say that i would not be the mom i am were it not for all of you! (did that make sense?)
and now i'm off to call the mother baby center to see if i can get a home visit/consult with a lactation consultant…. and then i'll fold some laundry and hopefully tonight i can update my "thankful" mini album with the past few days of entries. and choose some photos to print and add to it. yep. today might be rainy and dreary, but it's still a good day!