got cream? apparently i do.
so last friday i told you that 6.0 ounces is a good one-week weight gain for a baby between 1-2 months of age. at the request of the lactation consultant, i took sam in for a weight check today. last friday, she weighed 6 pounds 5 ounces (1 ounce less than her birth weight). today she weighed: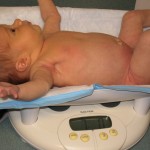 7.0 pounds. yep. 7.0. that means she gained 11 ounces in one week. ELEVEN. almost TWICE the usual amount of weight gain. sheesh! i checked davey's baby book today and at three weeks, he weighed 5 and a 1/2 pounds (not even his birth weight!). samantha ma outgrow her big brother pretty quickly!
speaking of big brothers: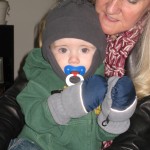 davey got to wear one of his winter hats & gloves yesterday when nana took him for a walk.
and last night, big brother davey got to go sledding: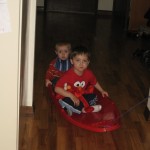 carrilee, henry and jorja invited nana, davey, samantha and i over for dinner last night (tim & dave had a work meeting). henry pulled out his sled and convinced nana carol to drag him and davey around the house. it was pretty funny. i'm not sure davey had any clue what was going on. but henry told him to sit in the sled, so he did.
happy friday to all!