so early this afternoon, sara, linda and i were interviewed by the lynden tribune for the upcoming craft show (hooray for free advertising for our booth)!! the show is NEXT WEEK already! so we (well, sara and linda) pulled together a great boutique display of our products for the photo shoot. hopefully all three of us look cute in the photo they put in the paper…. but at least we know our stuff looks great!
here's a peek at what we pulled together in time for today's interview: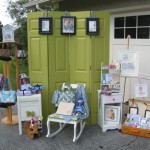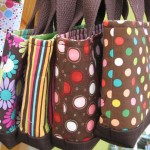 don't ya love how well our products work together? sara's furniture and pictures…. linda's bags and baby packages… and my paper products? we're eager to see how our whole booth comes together next week!
(hey TOM girls – recognize that orange suitcase in the lower right corner of the photo? i think i remember that there was a second one of those – kim, did you get it? could i borrow it for the show? we'd love to use it for display! actually, linda and sara both want to steal mine, but i can probably convince them not to if we can borrow a second one for the show!)
so back to the post title…. WOULD YOU SHOP HERE?