we got home around 4 pm yesterday and it feels so good to be in our home. we learned our "lesson" when we stayed in the hospital an extra day with davey – it takes them hours to discharge you at our hospital. we didn't want that experience again, so we had them release us less than 24 hours after roxy…. i mean samantha…. was born. and we're glad we did. here's sweet sam all snug in her carseat: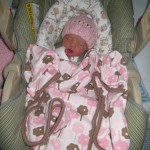 davey is very curious about and interested in his sister. we're watching him closely since he's so young and he doesn't understand words like "gentle" but he seems to really love her: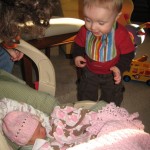 i'll give you a brief version of our story and for those who want more detail, once i've typed it up, i'll give you an option to request the story via e-mail… but i'll need a few days for that! so here goes:
contractions off and on all day thursday. doctor's appt. she was SURE i'd go into hard labor thursday night. we went to the hospital: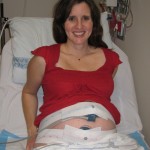 but they sent us home after 2 hours b/c the only progress i made was for roxy to drop another station (from -3 to -2).
woke up friday with contractions that were way stronger when i stood up…. they were every 2-3 minutes apart when standing and every 8, 10, 20, 30 minutes apart when sitting. seriously frustrating. but my back hurt really bad so we went back to the hospital. this is our final "family of three" photo (taken as a contraction was ending so my eyes are a bit red from crying):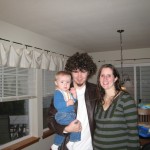 the timing of our arrival at the hospital was perfect (thank you, Lord!). i in an exam room by 10 (dilated to 4 cm). my doctor happened to be there – she saw my tears (i told you my back hurt) and ordered my epidural. note: i wasn't even admitted yet!
so i was immediately admitted. and by 11 am i had an iv, my epidural and was dilated to 5 cm. for the next 3 hours, there was pretty much ZERO progress. even my contractions stopped. they called my doctor and she ordered potossin (which is used to induce labor/contractions). that helped get the contractions going again… but not enough… i was still at 5 cm.
at 2:50 p.m., Dr. Tu came into my room. she decided to break my water, go into a surgery that would take about an hour and then i should be ready to deliver. so she broke my water and left the room to do a surgery. and i felt pain. INTENSE, AWFUL, HORRIFIC PAIN… felt WITH my epidural. so with nothing else to offer me, the nurse decided to check me. it was 3:15 p.m. (so 25 minutes after dr. tu broke my water). and she discovered that i was in so much pain b/c baby roxy was ready to make her appearance. yep. from 5 cm to fully ready to deliver in just 25 minutes.
so the nurse ran to page dr. tu, who was back in my room in about 2 minutes. then she was gone to change into scrubs. not sure of the timing here, but roxy was born at 3:27 p.m. – just 12 minutes after the nurse checked me and ran to get dr. tu! i think i pushed about 4 times before she was all covered in goo and resting on me!
so in a short window of time, we changed from our little family of three to this: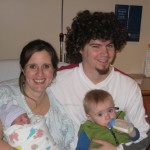 a family of four. it seems so surreal. almost like a joke. but it's real. this is my life. changed in an instant.
dave has some great shots of sweet sam, but they're on his laptop, so it may take me a few days to get to them and post them here. if you're patient, i promise you'll see some great photos of our petite daughter! in the meantime, please pray for her to nurse well. last night it took two hours for her to nurse and then fall asleep. yep. two hours (8:30 to 10:30). she seems to be peeing & poo'ing just fine… it's the nursing that is an issue (my milk hasn't come in yet – most likely another day or so). i really want to nurse samantha, so i'm trying hard to stay relaxed, to drink lots of water and to let her learn in her own time (no matter how much it hurts!). for now, though, we really need her to eat well so she can flush out her system… the next two days are the most crucial regarding jaundice (and you may recall that davey was very jaundiced and had to be on a home light bed which messed up his weight, his eating, my milk production…. and was just very exhausting).
additionally, tomorrow we'll probably start the "room swap" situation to move davey from his crib to a borrowed crib in his new room. for now, sam is sleeping in a playpen in davey's big-boy room. she arrived just a little too soon for us to be fully organized regarding their rooms!
AND CONGRATULATIONS TO MY DEAR FRIEND LISA (AND HUSBAND, DARRIN AND SONS PRESTON & TYLER) WHO ADDED ANOTHER BOY TO THEIR FAMILY YESTERDAY MORNING. CALEB GRANT WAS BORN AROUND 9:30 IN THE MORNING. HE WEIGHED IN AT 8 POUNDS, 8 OUNCES AND WAS AROUND 21 INCHES LONG. HE WAS BORN AT 38 WEEKS AT A DAY. AND SHE WAS JUST DOWN THE HALL FROM ME. HOWEVER, I HAVE NO PHOTO B/C I SHE WAS NURSING WHEN I VISITED AND I PROMISED HER I WOULD NOT TAKE A PHOTO!
now we're just waiting for dan & heidi to have their little girl (due date was yesterday) and wade & tori to have their little boy (they are several days overdue, i believe).