she has (finally) arrived. the story of her arrival will be saved for another (much longer) post, but for now, please join us as we welcome this sweet little girl to our family: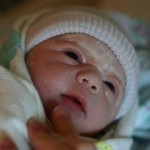 Samantha Jane Dunkin was born on Friday, October 24, 2008 at 3:27 p.m. She weighed in at 6 pounds, 6 ounces and was 19 inches long.
We plan to leave the hospital later today (Saturday) and we're looking forward to being at home. More details and photos to come soon…. I promise!