about one year ago, my big boy looked like this: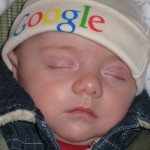 yesterday i discovered that one of davey's 12-month molars has broken through. he was pretty cuddly and snuggly yesterday (which isn't normal) and i thought it was related to that tooth. he was pretty cranky last night, so he had a few doses of tylenol (including at 2 a.m. when he woke up). but he's also been coughing like a mad fiend… and this morning his eye is watering like crazy and he's got a (clear) snotty nose. so i guess he has yet another cold. i'm getting frustrated with how many of these colds he seems to be picking up lately, especially when he went for such a long time without really having one! after his bath last night, i noticed a flaming red diaper rash (he hardly ever gets one) so i lathered him up with desitin. it appears he has a whole host of issues going on right now. sheesh.
now i just have to work hard to keep his cold out of my system. i can't imagine getting sick right now. how miserable would it be to have an awful cold and to deliver a baby at the same time? ugh!
on another note, i could use some prayer. i've had this issue with my lower back (right side) for years… i've been told it's a joint inflammation where the hip joins the pelvis (though it's in the back).i remember being shocked that it never bothered me when i was pregnant with davey. unfortunately, i've not been so lucky with this pregnancy with roxy. the best treatment for it has been advil (to help with the inflammation) and ice packs. i can't take advil while i'm pregnant and the ice packs haven't helped. i'm also not supposed to lift too much (with a 15-month old at home that seems impossible). so i limp and moan and groan my way around the house. i'm really hoping that once roxy is born, my sudden loss of about 20 pounds will send this condition back into remission. but for now, i could sure use prayer. i'm trying to imagine myself limping and gimping around for the next month or so and it's frustrating… and depressing. but again, i'd rather limp and gimp my way around then have another early baby.
and now i have to go change davey's poopy pants. hopefully he won't scream like crazy.