it's tuesday and i get to work at the store today. yippee!!
dave and his "little" brother tom both have some pretty wild, curly hair. dave's turns a little more into a tighter-curled afro while tom's is more wildly curly. but they both keep letting it grow and they both play with it. here's a great shot of tom and dave pushing their 'fros into faux hawks: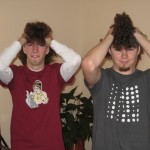 they look like members of a bad 80s band!
and totally unrelated to hair, here's what i did yesterday…
during davey's nap, i braved the unknown and i hung his wallpaper border. it was easier than i thought to actually put up the border (though it would've been better to have two people). but the aftermath of the glue dripping down the wall, the sponge and water turning "soapy" as i tried to clean off the glue… it all led me to some tears and a mini breakdown. thankfully, carrilee was able to assure me that all was normal and well. and now? it looks pretty good. i'm excited to try to pull the room together now. now that the border is up, i feel like there's been some actual PROGRESS in there. as if all those coats of paint weren't enough, right?!