sam's updated weight: 5 pounds 11.5 ounces…. so she's up 3 ounces from monday. which means that even though daddy called her an oompa-loompa this morning (she's a bit orange), there's no need (yet) to worry about her bili level or do anything additional to treat it. she'll have another weight check on monday and then her two week follow-up next friday.
*****
after davey's LONG nap (2.5 hours) yesterday, we took our first outing as a family of four…. to target and the maternity store at the mall. just a little adventure. it went okay – no major problems. i'm glad dave was there, though. i'm curious as to how errands at walmart, target, the mall, etc. will go when i'm alone with the two kids. i'll have to remember to take the baby bjorn for samantha so there's room in the cart for the items we need!
the target dollar spot currently has winter hats and mittens for babies right now, so i picked up the pink striped set for sam. they also have some cute tights so i picked up some of those, too. they're a little "odd" b/c one has pink snowflakes and one has little christmas trees, but for $1 i thought it was worth a try. i was also a little "naughty" and picked up some items in the baby center of the store for her – some head bands, some really cute bow clip/barrettes (though she doesn't have enough hair for them yet) and a girlie "tug tunes" toy: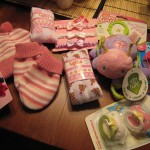 unfortunately, i noticed AFTER getting home that i bought the wrong size in the "tree" tights (i accidentally picked up 6-12 months) and the wrong "kind" of pacifiers (i wanted the non-silicone ones). if anyone local is headed to target anytime soon, let me know… maybe you can do an exchange for me! :)
we've been blessed in the last few days to receive two bouquets of flowers. one from the NYC family – uncle john, aunt babi and cousins liz, kate & wendy: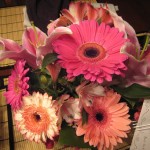 (these came with a frame, too – i LOVE LOVE LOVE these flowers!)
…and one from dave's employer: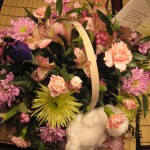 (these came with a white teddy bear).
and yesterday we received a pink beanie baby bear with an "it's a girl" balloon (courtesy of our church). and at the hospital on friday, auntie rachel & uncle sterling brought flowers (pink gerbera daisies – my favorite) & a balloon ("welcome").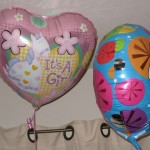 we had an okay night last night. i got to sleep in my bed for a few hours and then sam and i went downstairs where i (once again) fell asleep burping her…. so we had to stay downstairs through the next feeding. but i got to go BACK to my bed a little before 7, which was such a treat! i think i got about 5 hours of sleep in my bed – first time in almost a week! sam's doing better every day with her eating and she sleeps a lot. i love when she opens her eyes – she's like a little turtle… i remember thinking the same thing about davey.
and here are a few questions for anyone who wants to try to answer them:
1. why is my stomach (significantly) larger now than it was an hour after giving birth?
2. will it ALWAYS hurt like crazy when sam latches on (we're talking MASSIVE pain – i'm still working with her to get her mouth open really WIDE)?
3. how can i tell if i should be pumping now to increase (or maintain) milk production… how do i know if sam is eating enough… if she's "emptying" me?
4. why does it hurt so much when the stitches are coming out (on their own)?
that's enough for now.