HAPPY OCTOBER 2nd! (aka: happy birthday, jenn!)
oops! i'm a naughty girl. davey and i drove down to burlington this morning (about 45 minutes south) to visit a nice, big, CLEAN and organized Ross and then we stopped at the Carters and Gap outlet stores. We also visited an Old Navy. And i bought stuff at EVERY store. oops. i might be in a little bit of trouble (sorry, dave)! there was just SO MUCH CUTE STUFF for roxy. i was able to purchase a few things that on sale that i'd been eyeing for awhile (just WAITING for them to go on sale). roxy wasn't the only "winner" today, though. this mama got a few new tops (for post pregnancy), as well as a new purse! and apparently today was "stripes" day b/c 5 of my tops (shirts and tank tops) are striped. yep. wanna see some of the purchases?
here's my new purse, a striped shirt and a fun sweater from ross: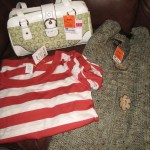 i love the button detail on the sleeve on the striped shirt (and it's a good orange color!) and i LOVE the buttons on the sweater (i could probably even wear that sweater/cardigan while i'm preggers… gotta love dual use clothing)!
and some of my fun finds for roxy (the future "best dressed little girl EVER!")….
here are some goodies from carters: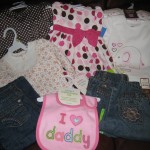 i fell IN LOVE with that pink, brown and cream polka dot dress. it was a splurge (at $11.40) but they only had ONE (size newborn) and i knew i would regret it if i didn't get it. the little brown polka dot dress next to it was also a splurge at $11.40 but again, there was only one and i knew i would regret it if i didn't get it. i obviously have a polka-dot theme going on here. and the reason there are FOUR pairs of jeans in this picture… they were $3.99 each. that's a pretty smokin' deal on jeans (for those of you who don't know) for kids, so i bought a few sizes to stash away for that price!
and here are a few of the finds from the GAP: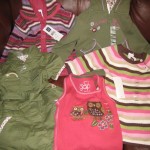 that striped sweater on the back left was something i saw a few months ago that i LOVED… and when it was on sale today, i snagged it. and isn't that striped sweater dress on the front right super cute, too? ahhhh. and, of course, my owl obsession continues… only it's a size 18-24 months so it'll be a long time before roxy can wear it, but it was only $1.99 (and it was the only one i could find)!
tonight is another craft/work night to prep for the craft show which is only TWO WEEKS AWAY! seriously. two weeks. that's crazy. and a bit disconcerting. however, i'm not stressing about it. what gets done, gets done. i really am taking it easy (or trying to).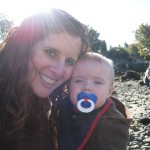 (this photo is from monday's play group at boulevard park). i keep forgetting to tell you that something a little sad is happening in our home. davey used to have blue eyes…. just like daddy. and we thought we were in the "clear" when he was 6 months old and they were still blue. and again when he was a year and they were still blue. but sometime between 14 and 15 months, they've started to change! they're turning more hazel-grey (like mine!) and they still look good, but we do miss his blue eyes. dave, especially, is sad about it….. "he used to be a Mini Me!"
nothing new has happened in davey's room since last week when my father-in-law painted the final coat of red (which looks good). (well, not nothing… i did remove the tape and clean up all the painting supplies). dave and i are hoping to get the border on the wall this weekend and then move the furniture (bed and dresser) back into place. after that, i can probably do the rest of the necessary things (like organize the closet and drawers and hang stuff on the walls).