happy monday! i'm still tired today, but i did get a decent night's sleep last night, so i'm thankful for that. hopefully i'll get a few more of those this week! and in an effort to continue to take care of myself and sweet Roxy, i've decided not to teach tuesday cards tomorrow at Treasury. i'm really sad about this, because i designed the cards and i think they're my all-time, most-favorite cards that i've ever designed for class. but i really do feel a need to take it much slower and much easier. and while the two one-hour card classes aren't too bad, it's the fact that it's a LONG day for me that makes it hard. that said, i do hope to try to make a LARGE purchase at costco one day this week. i do plan, however, to take someone with me to help (hopefully my mother-in-law). i feel the need to stock up on things like costco's frozen lasagnas, garlic chicken, etc. – things that will make for quick and easy dinners, ya know?
davey was feeling good enough to go to play group this morning… i'm glad he's finally on the mend! and many thanks to carrilee for changing his nasty, poopy diaper! :) he's still napping (may wake up any moment) and while i didn't get a nap, i did get to lie down and rest and almost fall asleep.
right now what's bugging in my brain is the reality that i'm missing some laundry. i have a few articles of clothing that i can't find… and a few of davey's, too. and there's no "laundry pile" currently floating around this house (amazing). i think i'm in "nesting mode" though i PROMISE i'm taking it easy (i'm spending way more time THINKING about things to do than actually doing any of them)!
and once again, totally UNRELATED to anything in this post (other than the title), check out this ADORABLE rattle i purchased for baby roxy while at the craft show (the ONLY thing i bought other than food):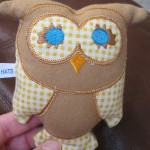 pretty cute, huh? and with that, davey is awake. have a great day!!!