today is my niece's birthday.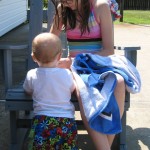 how old are you kate – 13? or 14? i'm a bad aunt since i can't remember. i'm thinking it's 14. but i could be wrong. can i blame my lack of memory on my pregnancy?
the photo above is from this past summer when we went to PA and NY for a week. kate was really good with davey. she didn't need to hold him and run around with him. but she watched him. and let him play with all of her bracelets (something even this mama won't normally do!) and i could tell she loved (loves) her little cousin. she is thoughtful, caring and can be so loving and sweet. i do love you, niece kate. i hope you know that (even though i haven't sent your card yet)!
i wish you a wonderful birthday, kate, with lots of happiness and laughter. LOTS.