the antique & craft show is over… and i'm thankful. it was a slow show with limited business. which is really surprising. then again, with all the media hype about the economy, we think a lot of people stayed home… or were simply too afraid to buy anything. i have my own political thoughts on the media regarding this, but i don't want to start any debates or arguments on my blog so we'll just leave well enough alone. thankfully sara & linda plan to do three more shows this year and they have agreed to haul my stock along with them (i am helping to pay for booth rentals!). i'm frustrated b/c i still can't seem to find my "niche" at the show… we'll see how the other shows go. hopefully i can get rid of a lot of my stock… there sure is a lot left over!
i think it did help ALL of us to sell a little more when we re-organized our booth and the back of the green wall a bit: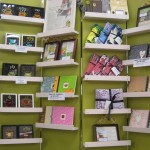 we started grouping my items together, since they tend to sell better that way. we did still have a few items spread around to create little "vingettes" (sp?) but overall, if you wanted to see all the types of journals i had for sale, they were in one basket. and chipboard photo albums were in one basket. you get the idea. it helped upped my sales (saturday was my biggest day) but it was still a S-L-O-W show. some items that i thought would be "hot sellers" didn't move at all. i mean not ONE SINGLE item. now THAT sure is frustrating. my stuff was all really well priced for gifts and stocking stuffers…. Sara is convinced that my items will sell like hot cakes at the Christmas show in December, but i'm turning into such a pessimist that i won't believe it until i have the money in my hands!
i was pretty tired when i got home last night, but my amazing husband (who took care of davey ALL DAY) had already planned for that, so dinner was ready when i got home. (it was a roasted chicken from the grocery store paired with a pre-purchased broccoli w/ cheese side dish, but it was GREAT to not have to cook or worry about dinner)!
i have to be honest, however, and tell you that i started to "freak out" a little that roxy might make an arrival as early as her brother did 15 months ago, so after i put davey to bed, i had dave bring me the vacuum cleaner and i vacuumed his new room. and made the bed. and put away some stuff (like clothing). and put roxy's clothing on hangers (as appropriate). and while i was quite wiped out after that, it felt good to have things just a little bit more ready in case roxy makes her appearance today or tomorrow. or this week, for that matter. (which reminds me, meg – can we still borrow your crib and mattress? we've got room for them now!) here's a sneak peek at davey's (still unfinished) room: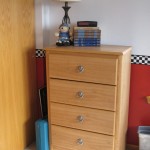 (his dresser with our "extra" lamp from our living room set – i plan to put that lamp elsewhere – my bedside table, perhaps, and put something else in his room, but for now, this will work) and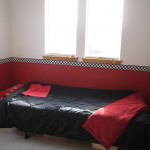 (his bed, minus a pillow).
i just ordered some roman shades on-line. i have some wall clings and other things to add to the walls still. and i need to clean roxy's stuff out of his closet (and his stuff out of the nursery closet), but all in due time. i'm not rushing anything. i just feel better now, knowing that we have room to squeeze a crib into the room and the window coverings have been ordered (and are in stock). i still haven't found a bed skirt, but that's not vital.
while sorting and hanging roxy's sweet little clothes (so much pink and brown – it's fun!), i discovered that my child has zero headbands (renee… think you can hook me up with some?). if she's anything like her brother (and her mama, for that matter), she'll be pretty bald for quite awhile, and while i am very eager to put her in pigtails, i know that it'll be awhile before that's an option, so i want something to set her apart as a sweet little girl, ya know?
i didn't sleep well last night. and i was definitely having contractions, especially when i woke up around 1 a.m. but roxy has opted to stay put (for now) and i'm thankful. i am quite tired of this pregnancy insomnia (i think i got about 4 hours of sleep last night – all interrupted) but i guess it's about time for me to get accustomed to that sleep schedule again, huh? it won't be long until that's a nightly thing for a month or two or three (oh Lord, please not longer than that)!
i stayed home from church today b/c davey was (is) still coughing and has a runny nose and we couldn't put him in the nursery. he slept for well over 3 hours, starting at 10 a.m. (a very early naptime for him) so i pretty much relaxed and tried NOT to think about the changes i feel in my body. i do think i have dilated more since my appt on friday. i'm starting to seriously doubt that i'll be able to hold on to this little girl until november 1st (my goal).
i apologize if this post is all over the place and makes no sense and has no flow. i feel completely out of sync… out of sorts. i also feel a bit housebound… maybe b/c i've been out of the house so much over the past 4 days and this morning i was "trapped" in the house. we will be going to church tonight since it's a business meeting and we're voting members. we'll just have to keep davey with us instead of putting him in the nursery, which means we may have to make an early exit. but at least i can look forward to an opportunity to get out of the house! :)
and completed UNRELATED to anything posted above, we learned this week that Mothers' cookies has gone out of business. they make dave's favorite animal cookies (covered in white or pink frosting with round sprinkles on them)… and he loves their frosted oatmeal cookies, too. i love their double fudge sandwich cookies (Christy got me hooked on them when we were roommates). when dave went to the grocery stores (both of them!) in lynden this week after the announcement, he wanted to stock up on some of our favorites. i guess everyone else had the same idea and there are ZERO animal cookies to be found. he did get 4 bags of my cookies, 1 bag of his oatmeal cookies and 1 bag of fudge striped cookies. but he's bummed about the animal cookies. so if you see any (remember, MOTHERS brand), pick up as many bags as you can and we'll pay you back – we promise!