here's a photo of me on saturday night… today (monday) i am 34 weeks pregnant: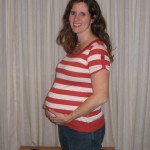 i'm gettin' big! or shall i say… ROXY is gettin' big! :) i'm hoping i didn't stretch out that new shirt by wearing it with my big 'ole belly (it's not a maternity shirt)! it's one of my new shirts from my shopping trip last week… and i LOVE it!
and as promised, here's our story about our saturday trip to stoneyridge farm:
rachel (dave's sister) and sterling (her husband) were up for the weekend. since rachel's birthday is next weekend (the 11th), we had planned her annual birthday trip to the pumpkin patch and apple orchards (aka: stoneyridge farm). the day started out decent enough – a little cloudy but with patches of sunshine. unfortunately, we planned our adventure for the afternoon (after davey's nap) and by then, it was WINDY, rainy and pretty nasty. so we braved the weather but we're not sure if it was worth it. we tried davey in the backpack (so no one would have to "hand carry him") but he wasn't too fond of that new experience and he cried for most of the time he was in it: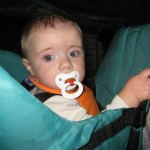 we finally took him out and dave carried him around the farm. unfortunately, this mama didn't quite dress davey appropriately and he had no hat and no hood… so dave also had to carry an umbrella, which wasn't too easy (remember… it was WINDY). but at least davey cheered up a bit once out of the backpack. (i should mention that grandma did carry davey around for awhile, too… and grandpa shielded them with the umbrella).
davey got to ride a horse and see a pumpkin tree:
we all rode the wagon out to the fields…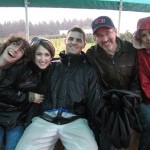 …but didn't stay for very long. less than 5 minutes, i think. it was just wet and miserable. and there weren't even any apples to pick – because the season got started late but we did manage to take a few photos before jumping on the next wagon…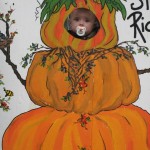 (what a cute little pumpkin man i have)!
tom did pick up and carry a pumpkin from the field for mom/grandma, so the trip out to the field wasn't completely in vain.
once back from the fields, we went to get some mini donuts and hot chocolate while we tried to dry off and warm up:
those little donuts are DELICIOUS, but the hot chocolate seems to lack a very key ingredient: chocolate… we'll have to try to remember that for next year (though we said the same thing last year). davey LOVED those donuts (like father, like son) and it was under the shelter of this little shop that he FINALLY started acting like the davey we know and appreciate…. happy, funny, talkative (with his martian gibberish).
since we were at the farm, we couldn't leave without apples and gourds but since we didn't get any while we were in the fields, we had to get them the "cheaters way" – at the little market:
i thought davey should have his own pumpkin, so we bought two little "school pumpkins" for him… and i think he liked the one he got to hold and carry all the way back to the car:
once in the car, he liked to hold his pumpkin and then quickly set it down between his legs and clap his hands. and repeat. and repeat. and repeat. and repeat. and… (you get the idea)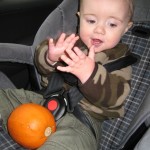 so even though the weather was crummy. and i didn't pick my gourds from the field. and i didn't get to eat a fresh apple from the tree. and i didn't even get to pick ANY apples from the trees, it was still a good time with family.
we all had dinner together to celebrate rachel's birthday (jeff even made it home from work in time to eat with us) and i have some more fun and cute photos of davey from the day (while at grandpa & grandma's house), but i have to save SOMETHING for posts later this week! :)