today is my big brother's birthday…. happy birthday, john!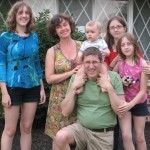 when i was little (we're talking age 3 and under), this guy was my babysitter, my entertainer, my knight in shining armor, my best friend. and then his intelligence was recognized and he got a scholarship to a great school and off he went – to boarding school for high school…. and we lost our special connection for the next two decades or so. but now that we're both "older and wiser" (or now that i'm not a brat anymore?), we've reconnected and we really enjoy spending time together. we try to PLAN to spend time together. whenever dave and i make it back east, we plan a day trip up to NY to see john and the family. and we went on vacation with them one year to rhode island. and they came out here for christmas one year. i wish we lived closer to each other… davey was pretty enamored with his uncle john and i think uncle john was pretty enamored with his sweet little nephew, too!
john, i just want you to know that i love you and i admire you for many things. i value your friendship and i hope you have a wonderful day and that you are treated well. i miss you!
and another happy birthday wish to my friend Karla, too (she's the one in the middle of the photo):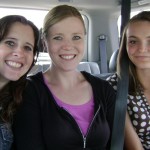 tomorrow (hopefully) i'll share with you some photos from our trip to the pumpkin patch/apple farm from yesterday!