today was a BEAUTIFUL day. absolutely beautiful! it was warm and sunny so after church and davey's nap (and my nap!), we headed into bellingham because dave had to reboot a server. thankfully it only took him 5 minutes to reboot the server and that solved the problem, so we were all able to go to the park right next to fibercloud. davey wasn't interested in the playground area (other than playing with the bark), but he did enjoy walking on the path around the Zuanich Point Park, which is located along bellingham bay.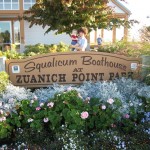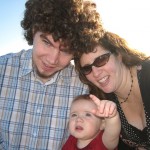 (an awful family photo, i know)
something that davey has started to do in the past week or two is to place his hands behind his back when he walks. i don't know why he does it. or where he learned it. and he doesn't always do it. but for some reason, i find it really funny…
sometimes i really wonder what's going on in his mind… doesn't he look a little like a college professor or a philospher who's out for a walk, contemplating the meaning of life?
and this photo makes me laugh, too. once again, WHAT is going on inside his brain? this photo also makes me sad… because for some reason, i think he looks like a very BIG BOY in this photo. grown up. wondering what's going on…. or weighing two options against each other…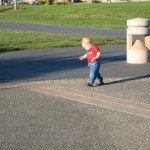 dave and davey were checking out a statue of a fisherman… it's actually a memorial to the many fishermen who have lost their lives at sea trying to put dinner on the table for their families.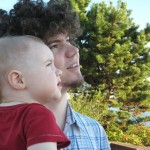 after the park, we ran a quick errand for tam's treasure box (got a few more projects to work on before the craft show) and then we went to red robin for dinner.
davey was a really good kid all day today. he's definitely growing up. the three of us had a wonderful day enjoying the weather and each other's company… i can only wonder how many days or weeks we have remaining where our family will be just the three of us. so crazy to know that our family will grow by one precious baby girl in just a short time!