davey is finishing up his dinner right now, but i wanted to share some photos with you…. taken during his dinner eating adventure this evening:
apparently spaghetti tastes best when you get it all over your face AND your body! :) hey, at least he's eating! but he's also going to get a bath once he's finished eating (which should be soon).
and in case you're wondering, his new room still looks like this: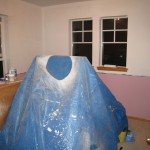 two coats of white and one coat of primer. no red yet. maybe this weekend i can get it all finished.
uh-oh. spaghetti is now flying around the room…. gotta go!