it's been one of those days in this household. davey is still pretty clingy and he is NOT at all interested in taking his medicines (amoxicillian and tylenol) so i've been force-feeding them down his throat… poor kid. but i know it's for his own good so i don't feel TOO bad doing it to him. even though he's been needy this week, he's slept well the past two nights (hopefully he'll sleep well again tonight) and he's still pretty darn cute and entertaining. one of his new favorite things to do is chew on his binky backwards: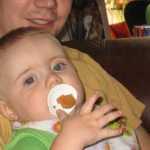 dave finds it pretty humorous!
while davey was clingy, daddy watched him almost ALL DAY. yep. it was exhausting for him, i know. and his back is really sore from holding davey all day.
what was i doing? i started (finally) painting his "big boy room." yep. i got one coat of paint on the ceiling and upper portion of the wall and i got one coat of primer on the lower portion of the wall. so only three coats to go (a second on the upper portion and ceiling and two coats on the lower portion). right now, however, his room looks like it's ready for a girl to move in. white on top and purple-pink on bottom. but if that purple-pink primer means i only have to paint TWO coats of bubblegum red…. well, i'm all for it! hopefully i can get at least one more coat painted tomorrow. but one thing at a time…. i'm pretty sore tonight!
dave set up a studio in the garage: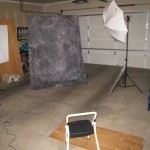 so he could take some belly shots of roxy. we're hoping to continue to the shoot tomorrow during davey's nap. he only slept for 45 minutes today, so hopefully he'll sleep much, MUCH longer tomorrow!
at 9:27 tonight, i noticed this:
a very dirty and grimy cabinet under the kitchen sink. i couldn't take it anymore, so it now looks like this: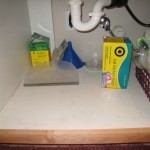 not spotless, but much, MUCH cleaner than it was about 15 minutes before i started!
so then i was motivated and i put to use the brown canvas bins i bought earlier this week: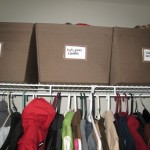 so that was saturday in our house…. what did you do today?