today has been a rough day. dave got up around 5… he's in seattle for work today and tomorrow. davey then decided to get up at SIX A.M. and to be a whiney, crabby, cranky boy. he was placed in his crib TWICE in the hopes that he'd fall asleep for an early nap. it didn't work EITHER time. he did, however, finally fall asleep in his high chair while eating lunch. he was pretty much out of control at bedtime last night, too. i hope this is NOT a new trend!
yesterday while he was in a good mood, though, davey enjoyed a new snack: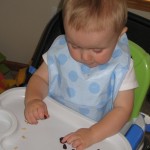 raisins. unfortunately, i saw them all in his diaper this morning… my child is STILL not willing to CHEW his food. it's getting more and more frustrating… and truthfully, this whole "food issue" is a major stressor for me. i'm afraid he's not getting enough food. or enough nutrition. or enough variety. and then i feel like a bad mama. and then all-of-a-sudden he has a good eating day where he chews his food and eats everything i put in front of him and i suddenly feel like i can "handle" the world of feedings again. and then the not-chewing and not-eating resumes… it's a vicious cycle.
time for me to go get crafting again while davey sleeps. i'd like to take a nap myself, but i'm not tired right now…. i was earlier when he was throwing his fit(s)… and i'm sure i will be again later (just as he wakes up from his nap) so i think i'm just destined to be tired and cranky today. you might want to stay away from me today! :)