seriously. i slipped today. on a wet floor at mcdonalds in ferndale. and they didn't even offer to comp my meal! after play group, some of the girls and i went to mcd's with the kids for lunch. i was on my way from the play room to the main room to refill my sprite… and the floor was slippery (a kid had just mopped but there was no sign on the floor) and my feet slid out from under me and i landed on my rump with an "oh!" embarrassed and uncomfortable. completely. and then my dear friend lisa reached out to give me a hand to help me up. but i wouldn't let her. she was wearing flip flops, standing on the slippery floor AND she's as pregnant as i am (her due date is 12 days before mine)! so instead, when a stranger wearing boots reached down to help me up, i accepted his hand. thankfully, aside from some sore joints and a few small aches, i'm fine. sheesh!
now on to happier (and less embarrassing things)…
we had a BEAUTIFUL, sunny and warm weekend here in lynden. and true to form for my new outlook and perspective on life, after just a little time in my craft space on saturday morning/afternoon (while davey napped), we had family time for the rest of the day. the three of us went on a (slow) bike ride over to the city park where davey got to swing for a little while. it's the first time the three of us have ever gone on a bike ride. it's the first time dave and i have been on a bike ride since a year ago springtime!
when we got home, we all hung out in the garage where dave embarked on a continuation photo shoot of my baby belly. he got some really good photos (he edited them last night) and i'll share some of those later this week.
davey even got to play in the office with daddy this weekend…. and he got to play with the paper shredder (he loves that thing) and he had an absolute ball with the end product: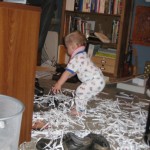 and to go backwards a step, during davey's nap on saturday, i heard him fuss a little, so i went in to check on him. i only got one photo before he moved, so hopefully you can get the idea what was going on in this shot: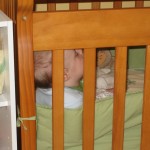 he fell asleep sitting upright in the corner of his crib! and while i was trying to take a second photo from a better vantage point, i watched him start to fall/flop forward…. but instead he flopped/slumped over to the side… and he continued to sleep for another hour or so. sweet little kid. i can't believe he fell asleep upright IN. HIS. CRIB! only my child, eh?! silly kid!
last night i had a crop at Treasury with the other TOM girls and they had a little baby shower for me. SERIOUSLY CUTE pink and brown girly-girl stuff. LOVE IT. will have to share those photos with you soon, too. i almost cried. i definitely felt (feel) loved!
and with that, i'd better go check on the doodlebug… his nap is over (or almost over)!