wanna see some things that have been making me happy lately? even if i warn you some of them might provide a little "too much information?!" okay. here goes:
i bought some of these when i was out shopping with the girls a month or two ago….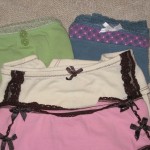 and i liked them so much, that i drove out to the birch bay outlets two weeks later to buy some more (perhaps some of the ones in this photo)!
and about a week or two ago i was walking through walmart to the back corner where they have all the baby stuff and these happened to catch my eye before i made it back to the baby items: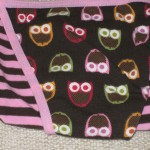 i have this minor "obsession" with owls right now, especially when related to scrapbook supplies. but then you add in the pink and brown and the stripes…. i had to own these babies! :)
but now, so my husband and father-in-law will no longer be embarrassed at seeing my underwear posted on the internet for all to see, here are some OTHER, non-underwear items, in pink and brown that are currently making me VERY HAPPY: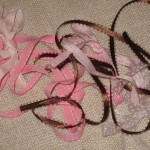 these pretty pink & brown ribbons tied up all the beautiful items in my basket of goodies for roxy provided by the beautiful TOM girls at my shower last sunday night.
here's a look at the basket with some DARLING clothing inside:
i LOVE the dress and blanket with apples on them and thought you needed a close up photo to see the apples a little better!
here's the cute teddy bear, miss carly's favorite dress (i love this sweet thing… now to find light pink ruffle bottom tights to go with it…..) and the cute top (size 24 months) miss lisa picked out (she wasn't aware of the pink & brown theme carly had planned):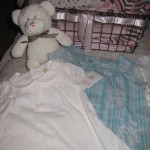 and these precious goodies: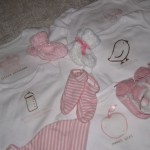 it's a set of 5 white onesies with cute pictures and phrases created by the beautiful and talented miss carly. little princess. future tom girl. don't wake me…. i'll wake you. sweet girl. and little chick. and see those cute booties, moccasins/slippers and the striped hat?
here's a link to julie's blog post where she provided some of her photos of the goodies.
miss carly, you did an AMAZING JOB picking out, designing and filling the cute wire basket with the perfect items for my darling baby roxy to wear. i almost cried as i looked through each item in the basket. i LOVE everything that was in there and i know roxy will be the BEST DRESSED baby girl ever…. the TOM girls and nana are making sure of that! :)
thank you, wonderful TOM girls, for making roxy and i feel loved. and special. she is eager to meet you… but let's hope she stays inside for about 7 or 8 more weeks, okay?! :)