no call from dr. tu's office today, so we'll assume that "no news is good news" on the fetal-fibronectin test (and good news is a negative test b/c that means no bed rest)!
i had contemplated not attending play group today b/c we were going to a park in bellingham (and i thought it might be "too much" for me to chase davey around a park), but when the weather report called for a sunny and warm (as in 75 degrees) day, i knew i couldn't miss the opportunity to visit boulevard park (which is where dave and i ended our first date almost 7 years ago and where we got engaged 6 years ago)! and i know i made the right decision. my friends are AWESOME. they chased davey the few times it was necessary. sara carried him up and down the stairs when we walked on the rocky beach to look for crabs. i have an amazing support system. i'd share photos with you, but i'm currently sitting down with my feet up and i don't want to go get my camera… so you'll have to wait a day or two to see photos of today's adventures.
i do, however, have a photo to share with you. i love to watch davey play with his cars and trucks… he even makes the "vroom vroom" noise… only it involves the "b" sound and a lot of lip action and spit (you can kind of even see his lips in mid "bbbbb" in this photo)!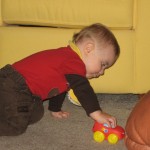 and unrelated to anything above:
i've been tagged!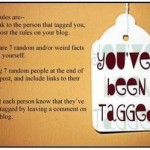 my friend renee tagged me last week. i think i've been tagged before, but hopefully i'll share some different random facts/stories with you this time, so here goes:
1. I have always loved grapes… but I hate grape-flavored candy and medicine. (Dave eats some of my grape/purple candy… the rest of it goes in the garbage).
2. I started making cards as a way to use up the paper scraps from scrapbooking.
3. Dave thinks I missed my true calling in life – to be a veterinarian.
4. I LOVE the water – i LOVE swimming, but the ocean freaks me out. I think it goes back to a trip to the NJ shore when I was in 5th grade and the beach was literally COVERED with jelly fish…. F-R-E-A-K-E-D me OUT! (By the way – I still remember my bathing suit from that adventure. It was a yellow color with black dots/blobs on it…. I kinda looked like a bumble bee)!
5. I was a Psychology major in college…. even graduated cum laude, but I know (or remember) pretty much NOTHING about psychology, it's history, the founders, the big names, their theories, etc.
6. I was going to sing "New York New York" with a friend in a talent show when I was in 2nd grade. We spent weeks listening to the song (using big head phones and a record player) during free time in class but the teacher finally said I couldn't do the duet because I had a horrible voice. I think I've been scarred ever since.
7. I'm one of the few Americans who does NOT like baseball, apple pie or mashed potatoes. Crazy, I know. But that's me.
So do you feel like you know me a little better now? I hope so. And even though some of these people have been tagged before, I've got to spread the love… so it's time for MICHELLE, JULIE, KELSEY, KIM, ELIZABETH, DAVE and MEGAN to share a little of themselves with me/us!