it's getting late, but i have time now to sit down and recap yesterday for you…. including some not-so-stellar photos! and thanks to those of you who actually made it through my post about my projects for the craft fair. i know some of you were bored by it, but it's a huge portion of my life right now. so thanks!
we had a surprise visit in the morning from rachel & sterling (dave's sister and her husband). we don't get to see them often enough, even though they only live in west seattle. it was a good, though short, visit. we tried to get davey to take a nap after they left, but he would have NONE OF IT! so we ate lunch and then headed to jaden's birthday party, where davey was actually pretty well behaved.
here's the birthday boy:
jaden was NOT a fan of his birthday cake….. in fact, he wanted NOTHING to do with it! absolutely NOTHING!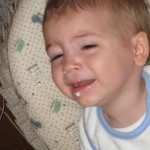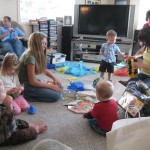 jaden has an older sister, emma, who will be 3 in november. joshua (in the far back of the photo) is jaden's cousin and he turned one in february. he's waiting for auntie brandi to open jaden's new truck… it was SOOO CUTE…. joshua kept saying "beep beep!" over and over again. it was really funny. and of course, you should recognize davey (or the back of his head, at least), on the front right of the photo.
joshua didn't want to share jaden's new toy with jaden: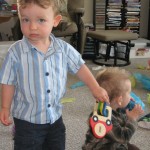 davey was just happy to play with whatever the other kids weren't playing with:
we left the party and headed home to pick up a few items for our next shin-dig… and davey was sound asleep in the car before we even made it home from the party (a few miles away). we packed up the car and headed out to the far side of lake whatcom…. about 45 minutes away. davey slept the whole way there… so that was his nap for the day.
i didn't take too many photos at the lake, but here are a few that i like: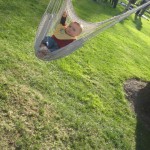 davey did enjoy this swing, even though he's clinging on for dear life!
daddy showing davey the water: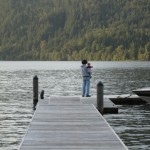 and davey enamored with the boat: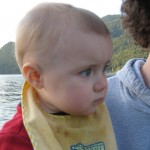 our hostess with the most-ess… and her darling daughter, lizzie (who also celebrated her first birthday recently):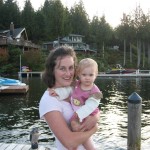 thanks for the great party, shell! this wonderful friend is the person who got our play group started… and that play group has been SO GOOD for me (and for davey). thanks, shelly, for acting on the burdens God has laid on your heart!
and these sweet darling twin boys are already 6 months old:
ethan and lincoln… i can't believe how quickly they're growing! they're in the 90th or 95th percentile for their length and weight (if i remember correctly) and i imagine that they'll pass up davey pretty quickly (since he's in the 25th percentile for length and the 10th percentile for weight)!
and now the dryer has buzzed at least three times, which means i need to go and fold the laundry. sigh. a mom's work is never done, right?!