remember how i told you that davey likes to talk to his nana (her photo)? well, last week he decided it was time to give her some love, too….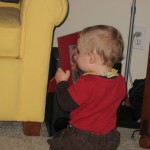 he doesn't understand "hugs" or "kisses" yet, but he's very clearly giving nana some love here!
and this morning, i "caught" him walking around the bonus room with one hand holding his bottle and his other hand behind his back. and when he turned around so i could SEE his back, i saw that his four little fingers were down his back… meaning down the back of his shorts and his diaper. WHERE DOES HE LEARN THIS STUFF?!
it's shaping up to be another GORGEOUS day here (aka: sunny and warm) so i'm sure we'll play outside this afternoon. i might even get to finish sanding some boxes (while sitting down!) for some craft show projects. right now davey is down for a nap and i'm sitting on the couch resting.
EDITED TO ADD: got a call from dr. tu's office at 2:15 today – they confirmed for me that my "no news is good news" theory is true. my FFN test was negative. no bed rest (yet)! AND davey took a 2.5 hour nap so i took a 45-60 minute nap myself! hopefully we'll have a grand afternoon even though it's not as sunny or as warm as was forecasted.