how many coats of red does it take to get an EVEN look on davey's wall? the answer is pending. so far, i've painted one coat of tinted primer. and two coats of red paint. here's a look after painting one coat: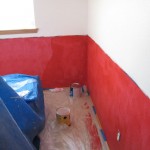 pretty blotchy and gross. learn from my mistake: olympic paint is NOT user-friendly. ugh. here's a peek after painting coat #2 of red: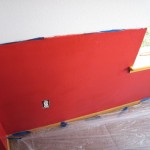 and on wednesday i'll be applying coat #3 of red (because uncle jeff plans to hang out with the doodle again)…. hopefully that will be the FINAL coat of paint required. and then i can put the room back together. and find things again. and get all the stuff out of the hallway. but i'm not holding my breath. but i REALLY WANT the third coat of red paint to be the LAST coat i have to paint for awhile.
in other news, roxy's pre-made baby album is almost finished. some of you may recall that i was IN LABOR (unknowingly) while i was trying to work on davey's album. so his pre-made album actually had to be finished AFTER he was born – and THAT was a challenge! i've been feeling pretty uncomfortable lately, but i'm still praying that baby roxy will stay INSIDE for 6 more weeks. i see dr. tu tomorrow before going to work at the store so hopefully i'll have a baby update for you soon.