Monday:HAPPY LABOR DAY!
sorry i haven't posted sooner – dave was changing my site to a different server and he ran into some problems. i wasn't allowed to post anything while he was making the change b/c it would have been likely to get lost…. so here i am… on a new server and ready to show you some of my craft show projects. seriously. here we go:
these are my favorite item (so far)… i've got about 24 made and want to have about 50 in time for the show. they're little 3×5 memo books filled with a half pack of index cards. pretty cute, eh?
some mini albums made with coasters. these were a pain and i don't plan on making any more, though i do think they turned out pretty cute…. i think i have about 9 of them. they are 4 inch circles.
i love these memo books, too… all i did was add the glittery star to the cover: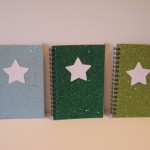 and these memo books just needed a little bit of patterned paper and embellishment before they were complete: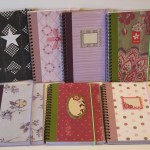 here's a sampling of some 6×6 chipboard albums i've made. i'm not sure how many i have made already – about 10 or 12, i'd guess:
these little photo albums make me happy:
i bought them (they hold 4×6 photos) and simply embellished the cover. i think they're SO MUCH FUN! i have around 15 of these little guys.
these are 6×9 (and 9×6) memo books made with drawing paper. i have 10 so far. i wanted to leave them un-embellished on the cover so there wouldn't be any "lumps" when someone went to draw! i have another 15 packs of paper that i've "ordered" through a rain check (hopefully they'll come in soon?!) b/c i'd like to have a few full size drawing tablets (9×12):
here are some barrettes that i decorated… i'm not a huge fan of these, but i went out on a limb and tried them, so we'll see if they even sell: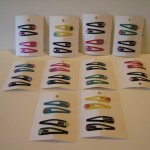 and here's a little hod-podge of card packs that i've made for the show: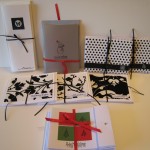 along with some cute mini card packs: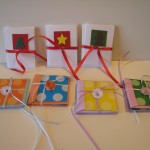 i already have about 100 individual cards (birthday, thank you, thinking of you, etc.), though i know i need to make a whole bunch more. i'm just trying to take it all one project at a time.
i'm currently working on desk-top calendars to house either one 4×6 photo or 12 4×6 photos (i plan to make 30 of each) – hopefully i can get these "whipped out" in the next two weeks.
and i really need to focus on Christmas card packs. i've tried during two different "sessions" to make some but i either felt overwhelmed or un-inspired. so hopefully some (simple) inspiration will strike soon…. i think i need to look at some of my past cards for some ideas!
i also bought some small tins to make more gift tags (like i did for the last show) and i'm hoping to be able to make some Christmas gift tags, as well. anything that didn't sell at the spring show will be available for sale during this fall show, so i have quite the variety of items and i'm really working hard to hit that in-between price point. i'm still struggling with the $15-20 price range, which is ideal, but at least i've got quite a few items in the $5-10 range.
time to run! we've had a relaxing morning (i got up at 6 with davey and then got to go back to bed around 6:45 and i was able to sleep until 9 – highly important for me since i had some more insomnia last night!) but the rest of the day will not be relaxing (though it should be lots of fun!)…. we have a birthday party for a 1-year old at 1:30 and then a picnic out at a lakehouse afterwards. guess i'd better go and get ready for the day!
edited to add: it's late now…. the day was fun (more about our activites later) but i wanted to mention three updates to my blog that dave made today!
1. the date is automatically added to each post now, so i don't have to remember to do it!
2. there's an RSS button up in your browser now for easier addition to google-reader or any other blog update program you use
3. there's a custom "search" feature at the bottom of the blog page so you (and i) can more easily search for past blog post entries! (it's located just below the box with the copyright notice and my e-mail address)
yeah for dave! hopefully my new "LOOK" is coming soon, as well.