so my amazing in-laws came over yesterday to make me rest. or at least sit down. and my father-in-law painted the FOURTH coat of red on the walls in davey's big boy room (fourth and FINAL coat)… looks GOOD, dad! and my mother-in-law did my laundry AND cleaned two of my bathrooms… and they BOTH watched and played with davey when he woke up from his nap.
because of their generosity with their time and energy, i was able to spend a number of hours working on some all-occasion gift tag tins for the craft show. they are 99% finished (21 of the 24 sets i had to make). and then today, he took a LONG nap and dave and i were able to spend some time together just chillin' and THEN i was able to finish the final details on 24 calendars, 12 gift card tins and a few other odds and ends (like pricing all the calendars i've made thus far – 54 to be exact!).
so i've been productive for the craft show, while still taking it easy. the good thing about craft show projects is they mostly involve me SITTING DOWN…. can't get much more restful than that!
tonight or tomorrow dave and i might try to put up the checkered border on davey's wall and then we'll be able to move the furniture back into place and get his room all set-up for the TRANSITION. it'll be interesting to see how he responds to that. i have no idea how he'll do. hopefully, well! :)
and since a post (especially a boring update one like this) just isn't as cool without any photos, here's a photo of davey caring nana (in photo form) around the house. he LOVES to play with her photo and tell her stories. we only wish we knew what he was saying!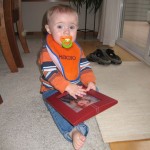 so happy saturday to all of you. we're on our way over to tim & carrilee's house…. dave has to test some equipment and davey and i will just hang out with carrilee, henry and sweet baby jorja!