today is saturday the 9th of august. today i get to go on a girls' day with my friends. girls only. no kids. no husbands. just girls. we're going to the alderwood mall. maybe to the seattle premium outlets. i might get a mini make-up make-over since i can't really buy clothing (sigh!).
dave worked LATE last night 'cuz he got a project that's due on tuesday. he's excited to be able to prove himself at this new job (which he still likes). when he got home well after 9 last night, he said yesterday was a good day. i LOVE hearing that from him. since he worked late, i got to watch a movie (P.S. I Love You) and some of the Olympics Opening Ceremony. before going to bed last night, i counted the layouts i've done this week alone….. 17. seriously. Seventeen one-page layouts. i LOVE having my scrap space and davey's play room in the SAME space… it's wonderful! not to mention the TV and DVD player, too! i don't think there's hope of me being "caught up" by the time Roxy is born, but i DO think there's hope of me not being so far behind on davey's photos when she's born! :)
how about a random photo of uncle tom whistling through a piece of grass as davey watches for today's photo?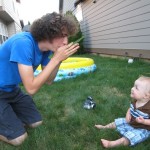 but now i must get a move-on if I don't want to be late for girls' day!!!