thursday: august 14th, 2008
today i plan to take davey to the fair. he may enjoy some of the animals. but secretly, i REALLY want a moowich. yep. just a simple ice cream sandwich made with two chocolate chip cookies and vanilla ice cream. but i crave those darn things every year. EVERY YEAR. so i must go pay the entrance fee to the fair… just to pay the additional cost of the moowich. ahhhhhhhh but it will make me happy!! :) of course, i'm choosing the WARMEST day of the week to go to the fair. leave it to me! i wish dave were going with us…. maybe next year (especially since we'll be a family of four)!
last night i was up until after 11 uploading 218 photos to costco's website. and i have more to go. i haven't printed any photos of our trip east. or of davey's birthday party. so i'm a wee-bit behind in my photo printing… with a FEW exceptions, i haven't printed photos since april. those 50 free prints i have in my account from costco aren't going to go very far when i'm going to end up printing close to 300 photos total! oops!
and as i was going through my photos from april to the present, this one (from june 4) made me crack up…. maybe b/c his hair is in a mohawk… or (more likely) b/c it's just in such a LONG mohawk: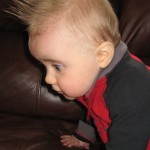 but i love this photo. i love this kid. i'm really trying to DELIGHT in him daily. he's so DARN SMART (he obviously takes after his daddy) and he really does play well by himself. he's so entertaining (to himself and to others). and i love him to bits and pieces – even when i'm frustrated with/by him.