sunday: august 10th
yesterday was SO MUCH FUN! girls' day was a blast! there were five of us…
Linda, Barb, Karla, myself and Sara
We started our adventure at the Alderwood Mall (where we spent a LOT of time at Nordstroms) and ate a yummy lunch at claim jumper (where the above photo was taken). We then journeyed north toward the Seattle Premium Outlets (which are about an hour north of Seattle – go figure!)… but we got a little stuck in some traffic: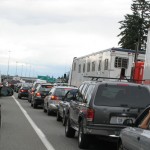 for over 90 minutes! all four lanes were pared down to ONE LANE…. and by the time we got to the accident site, we saw ZERO vehicles. what we did see was a pull-behind camper/RV that had the back 1/3 SMASHED and CRUMPLED. yep. just demolished.
the only things that made the 90 minutes SOMEWHAT bearable were the conversations that led to a LOT of laughter and this:
what is it? that's what we'd like to know! but i call it the "ark on a bus." that site alone made us LAUGH for a LONG time!
we FINALLY made it to the outlets where we RAN (practically) from store to store. i purchased two items for myself at The Gap (including a brown sweater that i will be wearing a LOT this fall & winter – both before AND after roxy's birth) and a few things for Davey and Roxy at Carters, Children's Place and Gymboree.
Right now (10:10 p.m.) I'm nearing about the 3-hour mark of reviewing and deleting photos to print (going back to APRIL of this year). yep. i haven't even duplicated and EDITED them yet. sheesh! i have a feeling this "project" will take most of this week! unfortunately, i SHOULD be spending my time working on items for the fall craft show… which is in TWO SHORT MONTHS! ack!!!