monday: august 4th
play group this morning. ahhhhh…. my sanity. i LOVE those moms (and their kids, too)!
so last night, after my post and my related laziness, i got pretty UN-lazy and actually got VERY busy. i did the following (not in this order):
-cleaned the kitchen
-"made" dinner (aka: heated up some chicken strips and french fries – a standard sunday evening meal in our home)
-made cinnamon rolls from scratch (using my bread machine… but note to self: next time, triple the glaze and not the filling…. and remember whether or not you actually tripled the cinnamon for the filling layer or only doubled it!)
-made some chocolate chip muffins (after dave asked if any of the cinnamon rolls were for us – they weren't initially; the muffins were a package mix)
-cleaned the kitchen again
-chased davey
-changed a poopy diaper (and subsequently washed my hands)
-fed davey (which we'll talk about more in a moment)
and i don't even recall what else. yes, i'd say i got a bit productive.
so davey has recently started this new thing (sounds a lot like konnor's actions, kim!)… he'll let me feed him a few bites of food (about 2-4) and then he's finished with his meal even though i KNOW he's hungry (he walks around the house saying "bobble, bobble, bobble" over and over again – sometimes it means bottle and sometimes it means food – good luck figuring out which is what!). so last night, i was simply finished. i'd much prefer to feed him myself b/c there is little clean up involved. but i know he's just asserting his independence and it's what he needs to do to grow and mature. so i put some applesauce in a bowl with a suction on the bottom of it (LOVE that gift – we got a matching plate, too), stuck it to the tray of his high chair and handed him the spoon. i don't think ANY of the applesauce made it into his mouth. i don't think he even TRIED. he just played with it. but for awhile, he was happy. (oh yeah – our entire home is carpeted, other than the kitchen and bathrooms, so dave grabbed a tarp from the garage – i have a feeling this hunter's orange tarp will be living INSIDE our house for awhile):
but i'd rather deal with the bright orange tarp than try to clean food mush out of the carpet!
and FINALLY, i have a belly photo for you. yep. today marks my 25th week of pregnancy and i asked dave to snap this photo yesterday: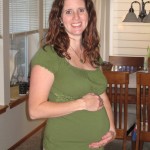 i felt as big and ungainly as a house all day. i didn't sleep well the night before (saturday night) so i was pretty crabby on sunday (though i tried to hide it?!). it's definitely getting more difficult to lie down, bend over, pick up davey, get comfortable in bed or on the couch and other fun things like that. and i still have 3-4 months to go! hopefully i'll feel "cute pregnant" again – b/c so far, that feeling only lasted about a week and i slept through a lot of it b/c i was so darn tired!
and one final update… i could never remember if i shared this or not before our trip to Pennsylvania but apparently i didn't b/c a few devoted readers asked me the results recently… i did get in with the new eye doctor about my blocked tear duct the day before our trip. he thought trying to "probe" it was silly and would be too painful, so instead, he had me lie on a table while he tried to flush it. i probably would've passed out if it weren't for the table…. it's weird to have pressure just from some fluid streaming onto your eye! anyway, they squeezed and squeezed and squeezed (the bottle, not my eye) and i just waited and waited and HOPED i would taste something "weird" or "gross" down the back of my throat (the sign that it wasn't blocked). it never happened. so the doctor decided that i probably have a blocked tear duct too far down for it to be flushed, which means i have to have surgery. he told me he'd simply refer me back to my previous surgeon. and all of that means i have to live with this "leaky/watery eye" for at least 4 more months. and probably longer. it's pretty frustrating. but i'm coping. such is life, right?
and now i'm off to bake the cinnamon rolls (hopefully my "oops" incidents with the recipe and measuring won't impact the final outcome too much) and run out the door to play group. happy monday to you all (and thanks for being faithful readers)!
P.P.S. if you use any type of "reader" (like google or blogger or whatever else is out there) to follow your favorite blogs, try adding the following address to your reader so my blog can work in your reader updates, too:
http://www.tamstreasurebox.com/blog/atom.xml
My dear friend Elizabeth has a geek husband (Leif and Dave went to college together) and Leif figured this out for Elizabeth and she shared it with me (ages ago) so I could share it with all of you!