saturday: august 23rd
so even though davey is OVER 13 months old already, we STILL haven't taken his 12-month photo with the elephant! i tried to snap a few photos yesterday, but this is how well it went: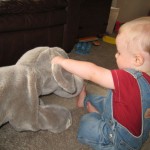 he wasn't too cooperative. i guess dave and i need to work together for all future photo sessions involving davey!
as for baby roxy, she's doing pretty well. moving a lot and giving me insomnia. hopefully this will pass soon, as i'm pretty darn tired each day from not sleeping much the night before. i don't remember experiencing this when i was pregnant with davey, but i know some of my friends experienced insomnia with their pregnancies, so i guess it's not unusual. i'll be 28 weeks pregnant on monday… i like the sound of 28 weeks…. sounds like i have a lot longer to go (as opposed to saying i'm 7 months pregnant…. now THAT sounds scary!)!