saturday: august 16th, 2008
today was a real SCORCHER! the day started EARLY for dave and davey (if you don't know, dave gets up with davey every saturday so i can sleep in a bit one day a week – it's SUCH a HUGE blessing for me!). anyway, their day started at 6:30. ugh. why so early, little boy? i was pretty awake (i almost offered to get up with the peanut, but i refrained) though i did fall in and out of sleep until 9 a.m. that was a sweet treat for me. ahhhh.
we all chilled in the bonus room for awhile. davey played. dave watched tv and i worked on some stuff for the craft show this fall. after my shower, i cleaned our shower (i won't even tell you how DISGUSTING it was…. especially since i can't remember the last time i cleaned it…. seriously!) and when i was done, davey was sound asleep in his daddy's arms (at 11 a.m.). davey proceeded to sleep until about 2:30 in the afternoon! seriously! i got more crafting done. and i ate lunch. and dave and i were downstairs chilling by the time the wee one woke up.
dave cleaned out davey's pool and we all headed outside. this little toy is among the best $2 i ever spent (a good bargain found on craigslist.com):
he LOVES to push this toy and honk the horn. and today, dave got davey to keep his little legs up so he could push him around the deck. davey seemed to really enjoy that! but do you see how red his little chubby face is? this kid does NOT STOP MOVING and b/c of that, he got REALLY hot in the house.
so we decided to help him cool off a bit: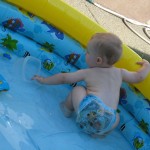 he's still extremely cautious in the pool and we're not convinced he likes it yet, but it really did help him to cool down. he was much more willing to stay in and play once i put my feet in and showed him some of his toys. he held onto the side of the pool for most of his "water adventure." he did eventually venture from the side of the pool to the center, but he wasn't really interested in sitting down in the water at all (which surprised me b/c he LOVED sitting in the puddles on the black tarp at anna's just a few weeks ago).
dave and i have been on our computers a lot today (i finally got all our photos from 2008 organized on our desktop… and i ordered over 300 photos from costco yesterday!) and we've been watching the olympics as much as possible over the last few days. we're into the michael phelps hype (currently we're waiting to see if he earns his 8th gold of these olympic games) and today we learned that the trampoline is an olympic sporting event (seriously? yes!).
and finally, despite the heat today, i did turn on the oven to bake some chocolate chip cookies. dave was really craving an ice cream sandwich. but the kind made with chocolate chip cookies. and the ones at the grocery store are "light" or "low fat" which (to us) means they taste funny… so i whipped out some cookies and made our own ice cream sandwiches. (and dave ate one tonight and was quite satisfied)! sorry, no photos, but super tasty!