thursday: august 7th
so yesterday morning i got a phone call from my good friend, anna. she let me know that it was time for another lunch and day in the sprinkler for the kids. i told her i'd be there. i expected davey to wake up from his nap by noon at the latest. at 12:10, linda called to find out where i was. davey was still sleeping. at 1:25 she called again – i told her he had JUST woken up and we were on our way – via bike and bike trailer (i attached the bike to the trailer during his nap – i also made 3 scrapbook layouts, read through blogs, wrote some e-mail, made & ate lunch, had some "me" time to do NOTHING…. and still he slept)!
so we FINALLY arrived at anna's…. with only a small "incident" on the way there (why, oh why would the sprinklers to city grass be ON FULL BLAST at 1:30 and DOUSE the city trail… and therefore davey and i?!?!?!). we had a great time at anna's. davey played on the "white-trash slip-n-slide" for about an hour…. yep. he LOVED it! i'm sure it helped that he had lindsey (linda's second child) to entertain him for awhile!
then sara stopped by (without her kids) and decided that she HAD to try the slip-n-slide: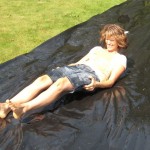 (and i'm now in HUGE trouble for posting this photo…. but i love the look of sheer DELIGHT on her face… and the reality that she slipped and slid SEVERAL times IN HER CLOTHES, knowing that she had to go to the hardware store still!).
and case (anna's oldest) had a LOT of fun with a plastic cup and trying to keep water IN it while putting it on his head – upsidedown: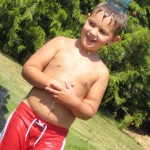 i am sorry, however, that i don't have a video of my encounter with a bee for you to see. i'm sure i looked a bit foolish… but i can laugh at myself. not-so-long story short, a bee wouldn't leave me alone and i finally started flinging off jewelry (bracelets) and one landed on anna's ROOF! yep. it'll be awhile before brian cleans out those gutters, i'm sure!
i am glad, however, that i do NOT have a video of davey SCREAMING as we rode from anna's to grandpa & grandma's house. it was highly unpleasant. i actually had tom drive me home to get my vehicle (with davey's car seat) and then i came back and picked up davey, who had finally calmed down. poor kid. he was EXHAUSTED. he was HOT. and he was UNCOMFORTABLE.
i guess i'll have to try SHORTER bike rides until he gets used to the trailer (hopefully he's not terrified for life now… this was our birthday present for him)!