wednesday: august 5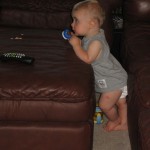 this was davey on monday night watching tv while i made dinner. he was watching a tivo'ed show (veggietales). he was content for about 10 minutes (max) and was pretty crabby and needy otherwise.
my OB appointment went well (for those who are curious). i weigh 4 pounds more with this pregnancy than i did at this stage with davey (which is fine, especially considering i still had about 4 pounds of davey-baby weight to lose when i got pregnant with roxy!) but otherwise, all looks good. i've got a slip to get my iron level checked sometime in the next two weeks (when i do my glucose test, too). i did learn one sad thing today… my OB is going to quit delivering babies after december! she has three children at home (the youngest is age 2) and she wants to be able to spend more time with them, especially with the youngest one! and her current schedule requires her to be on-call every 3rd night, which is just too much for her to do with three kids at home. so while i'm excited for her to be able to spend more time with her family (and i'm encouraged that there are people out there who choose to do this when they could be bringing home good money), i'm sad that she won't be around if/when we're ready to have our 3rd child! thankfully she'll be available for roxy! and she's really going to monitor me pretty closely starting around 30 weeks. she wants to know of any contractions that i may feel so we can have a good indicator if this baby girl is going to arrive early like her brother did!
it got pretty warm yesterday (up to 84 in our house at one point!). so when davey showed signs of being tired at 8:30, i tried putting him to bed…. but he'd have none of it. so i decided to take him for a walk. and it worked! he didn't fall asleep while we were walking, but he drank a bottle and got drowsy AND cooled off and when we got home (around 9:10, i think), he went right to bed. he snuggled his face into his blankets with his bum up in the air… and he wiggled for a little bit until he got comfortable and then he was out. just like that. ahhhh. maybe we'll go for walks every night… it's so nice not to fight him for bedtime!
last night he also seemed to do really well eating his dinner. i actually had some energy when we got home from town, so i put davey down for a nap and then got busy. i washed/cleaned the rest of his little people toys that i bought over a week ago (will tell you about that later), made some mac-n-cheese, cooked carrots and peas (so they'd be ready to microwave for a quick meal for davey), folded two loads of laundry… and then he woke up just an hour later. but i still felt good. so we snuggled while he drank a bottle and then i got him in his high chair and gave him a some dinner (the three aforementioned food items). he kept asking for more "bobble." i was surprised with how much he ate (and he didn't really play with his food all that much)!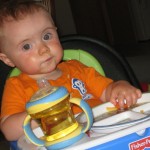 so all-in-all, yesterday was a good day. and a good night. i had some energy. i wasn't crabby. i wasn't exhausted. and i got a few things accomplished around the house. hopefully today will go as well.