thursday: august 28th
i've been pretty bad about using my camera lately and right now i'm too lazy to go into the office to pull off the photos dave took of davey last night, so here's a not-so-good photo from last week when we went to get the mail in the POURING RAIN: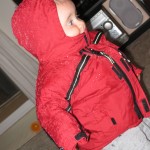 (i love his squished up cheeks!)
apparently, davey has taken to doing things while i'm out. he taught himself how to climb UP the stairs on saturday evening and tuesday evening (i was out both nights). i happened to be out again last night and guess who taught himself how to go DOWN the stairs? yep. the one and only amazing davey. the child seriously boggles my mind! i guess he went up and down and up and down and up and down for about 40 minutes last night before finally going to bed. he went up and down and up and down and up and down again tonight until i got tired of sitting on the stairs with him!
yesterday and today he's been quite a bit more cranky than usual. he's only had one nap each day – barely two hours yesterday and not even two hours today. i'm sure that has something to do with it… though i think he's also working on his 12-month molars (i haven't felt or seen anything yet). remember his cute little "fits" that i've explained to you in the past week? yeah… today they weren't so cute. i'm already tired of hearing him jabber "na-na" or "no-no" over and over again all day long. would someone please tell me that this phase (i'm hoping that's what it is) will pass quickly?!
on a brighter note, davey and i had a play/work date today. anna, linda and i worked on some projects at linda's house while the SEVEN kids played together. it was noisy and chaotic, but i think all three of us moms completed something (or at least made some good progress) and i know it was good for davey and i to get out of the house (it's been pretty rainy and cold all week). once i finish the current stack of little albums i'm making, i PROMISE to take photos of my completed craft fair projects so you can catch a glimpse of what's been occupying so much of my time and energy lately. i'm hoping (if davey cooperates) to complete my "in-progress projects" tomorrow… i REALLY need to focus on some Christmas cards (for the show)!