monday: july 28th
HAPPY BIRTHDAY to my wonderful husband! (yes, our anniversary is the day before his birthday). I hope you have a wonderful day, dave!
and to prove to you that davey really is walking EVERYWHERE, here's a photo of him walking on the ceiling last week (thursday night when he was WOUND UP tighter than….. um….. than something that's wound tightly):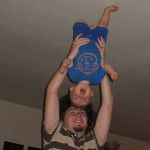 he was pretty good at it! :)
happy monday – we have to get ready for play group!