monday: july 7th
well, it's finished. i have reached the end of an (almost) decade. yesterday, the 6th, marked my NINE-YEAR anniversary as a Vocational Consultant. Nine years. That's a long time to do one job (for two employers). But today I called my boss, Brad, and told him that it was time. work has been SOOOOOOOO SLOOOOOOOOW since january (when a lot of changes went into effect at the state level) and i've been holding out, waiting for the wave of mass referrals to begin. but it hasn't happened. and so, with dave's okay, i went ahead and resigned today. no bridges have been burned. i've been a good employee with strategic from the almost ground floor (i think i started just before or after they turned "one") back in november 2003. brad even said he'd like to keep in touch and that he'd be glad to have me back when the work starts rolling in again. i'm okay with that. but for now, i'm really glad to be a mom. and a tuesday card class teacher. i feel good about my decision. very good. very relieved.
and on a totally different note, play group today was FUN, FUN, FUN! the kids had an impromptu run through the sprinkler:
oh to be young enough to run around in a diaper/underwear through the sprinkler! :) with so many bigger kids, i haven't let davey play in the water with them yet…. soon enough he'll be steady on his feet and giving them all a run for their money!
when we got home, davey was sound asleep and he took a long nap so i was able to make a few more scrapbook layouts. since i've been telling you about my scrapping adventures, i thought you might want to see a few of them. so here's what i worked on yesterday: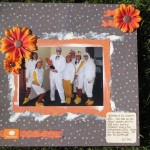 (halloween at the orthodontist's office).
(i still need to add the captions to the photos in that little pull out book).
and here's the one i started yesterday and finished today: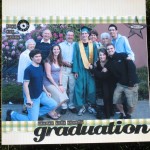 and for those of you who wonder how i have time to do fun things like this, here's my secret: i neglect my housework. i neglect my laundry. my poor husband only gets his ironing done about 6 times a year. oh yeah – and i try to scrap faster – make quick decisions, don't second guess myself, and just tape it down.
and now i must go and feed my whiny little boy. he might go to bed early tonight (one can always hope). and hopefully he'll sleep through the night (he hasn't done that for the past few nights).