Wednesday: July 2nd
check out our cute family photo that the beautiful Carly took at Konnor's birthday party: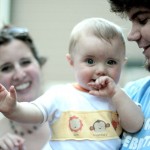 Davey looks so darn cute…. and I love Dave watching him and me laughing in the background!
The talented Carly actually took all the photos I'm about to share with you – they're all from Konnor's party last Saturday.
my boy giving me love: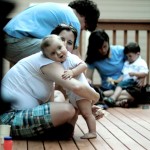 davey playing with konnor's new truck….. well, they shared initially: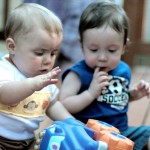 and then davey played with it (to be fair, konnor was somewhat afraid of the truck):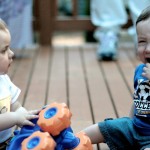 but then they each played with things (actually, konnor crawled off away from all his toys) but before they separated, carly captured this photo that i LOVE: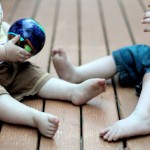 seriously… is there anything cuter than little feet?! :)
dave gave his notice at work yesterday. he pretty much has an open invitation to return to his current employer, which is always a good situation – to leave somewhere knowing you haven't burned any bridges AND you're valued enough that they would consider rehiring you in the future. he starts at Logos on Tuesday the 15th (which happens to be Davey's birthday!).
guess that's all for now. i'm just trying to get caught up on things like laundry, cleaning, organizing and the like…. the not-so-fun chores, ya know?