wednesday: july 16th
yes, ladies and gentlemen…. our baby girl FINALLY has an "inside" name. i'm tired of calling her "baby girl" or "baby girl dunkin" so last night, in the span of about 60 seconds, her name was established upon a suggestion from dave….. roxy. you can hem and haw all you want… it's not going to be her name or even her nickname after she was born (none of us call davey "seven"), but at least now we have something to call her for the next few months. ROXY. i like it.
and, as promised, here are some photos of nana's shopping adventures for baby roxy: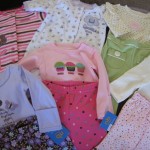 (newborn clothing)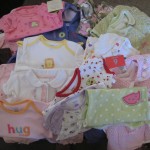 (0-3 and 3-6 months)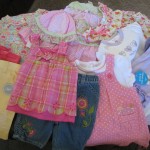 (6-9 months)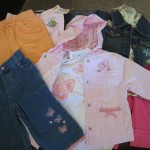 (9-12 months)
so those are the results of nana's big shopping adventures back east. that doesn't include my own garage sale finds from saturday! so today i went through everything and listed out what i DO HAVE in each size and what baby roxy still NEEDS in each size so i'll shop wisely when i find that next big old navy sale (i'm waiting anxiously for it…. you know, the twice yearly 50% off CLEARANCE PRICES sale?!)! :)
here's a photo of davey (from today) trying to get into the box of baby roxy's new clothes: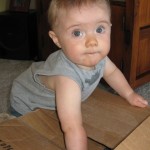 no worries, people. nana made sure there were a few things in there for davey, too! :)
and here's a cute photo of davey on sunday morning before church:
it was his first time wearing that cute hawaiian shirt. it's a hand-me-down from some friends who no longer attend our church. i wish they did so they could see how cute davey looked in the shirt! :)
and one day last week, my dear friend megan stopped by to borrow some stamps. she ended up staying here for about an hour or so visiting with me and playing with davey. she's one of his adopted aunties…. she loves him so much! anyway, while i was sitting on the couch, i stopped mid-sentence and started laughing. pretty hard. from my seat on the couch, i just happened to glance down and see a bit of yellow in our dvd/stereo system sub-woofer….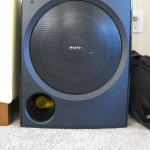 one of davey's yellow shapes that fits inside a toy i bought for him at a garage sale a month or so ago. i'm sure it's only the first of many "random finds" i will see around this house… but since this was the first, it was worth a photo…. and a story on the blog!