sunday: july 27th
HAPPY 6th ANNIVERSARY to my wonderful husband! i love you, dave!
since dave was at a mens' retreat/camping trip this weekend (with other guys from our church), davey and i were alone all day saturday. after waking up from 2-3 a.m., he slept in until 8 a.m. which was WONDERFUL for me. we had a relaxing morning and were still out the door for some garage sale shopping by 9:15 a.m.
our first few stops were pointless. nothing purchased. NOTHING. but then i had some luck. quite a bit of luck, actually. wanna know what $17 purchased? here goes:
- kids' clothing: 8 pairs of jeans, 2 sweaters, 2 onesies, a sweatshirt, a fleece, hooded vest, a velvet dress and a pair of camo rain/mud/barn boots
- large, soft, playskool truck (like the one konnor got at his birthday party)
- ride on tricycle with fat wheels (davey can probably ride it now – no pedals)
- a holly hobby refrigerator (antique?)
- two kids' wooden chairs
- a ride on wooden horse (antique?)
not bad, eh? how far can YOU stretch $17?! (those last three items on the list were picked up for my friend sara for our booth at the antique & craft show in october). it sure does get addicting… i got to a point where i wanted to see ALL the garage sales in lynden "just in case" i was missing out on a smokin' deal somewhere!
on our way home from garage sale-ing, davey and i stopped at the John Deere Days at our Lynden dealership…. everything was free, including food (hot dogs, potato chips, popcorn, ice cream w/ raspberries, pop, water), barrel "train" rides, tractor rides, bouncy house, feeding horses and more! at the show we met up with our friends the McLachlans and Zweegmans and then as Davey and i were getting ready to leave, we bumped into the Dycks!
i think he had fun… don't you?
we finally got home (about 4 hours after heading out the door for the garage sales) and after hanging out and "resting" for awhile, we went for a walk to visit with our new "neighbors," Karla and Caitlin. Andrew is away for a few days (fishing) so we wanted to visit with them for a little while. it was at caitlin's house that davey acquired this shiner: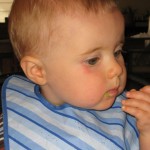 he tripped onto an elephant (from a "little people" toy). oops! poor kid! we had a good (but short) visit…. we hope to visit them again this week to keep them company!
on a side note, my darling little boy now PROTESTS if you ask him to eat baby food. yep. crazy. so i'm constantly trying to find food for him to eat. what i find pretty darn hilarious with his eating habits, however, is this:
my boy LOVES to eat peas. seriously. he can't get enough of them. in 6 years of marriage, we've only ever had peas in our house ONCE…. when i had my eye surgery and that's what the doctor's office recommended for an ice pack. seriously. dave HATES peas. he won't eat them. not at all. not even one pea. but davey can't get enough of them. he LOVES them. sometimes he shoves them in his mouth a fistful at a time. other times, he eats them one at a time.
my only "concern" with davey ONLY wanting "big people food" is he's not the best at chewing. yep. sometimes he just puts the food in his mouth and swallows it whole. two mornings ago, when i changed his diaper, (sorry, this is gross), i saw about 10-15 whole peas and 1/2 a grape in his poo (he kept whining until i fed him some of my grapes – thankfully i only gave him 1/2 and 1/4 of a grape at a time)!
he's a good eater, though. he'll eat almost anything. and if he doesn't like/want it, he'll take it back out of his mouth and hand it to you. pretty cute.
so even though we missed daddy, we had a pretty good saturday and we definitely kept busy! we're looking forward to seeing him a little later today… hopefully not TOO tired (from camping) and not TOO sore (from mountain biking)!