saturday: july 5th
i know, i know. i've been a bad blogger lately. chalk it up to laziness, i suppose, 'cuz i haven't been all that busy. i'm currently listening to a LOT (and i mean a LOT) of rain. it did stay away yesterday, which is a small miracle that we had a relatively decent 4th of july here in western washington. didn't matter much for us, though, 'cuz we spent the day inside doing nothing. no parties. no picnics. no bbqs. it was a bit pathetic. but i did take the opportunity to head to bellingham and design and print davey's birthday party invitations (they're NOTHING spectacular, i assure you)… and since dave was home, i was able to come home and cut and assemble them, even. and i was able to create a layout for the store (it's due monday)…. but that was about as productive as i got.
we did try to take davey's VERY late 11 month photo yesterday, but the cute little guy would NOT cooperate with a smile. we'll probably try again today, though we won't be outside in the grass like we were yesterday. darn. those would've been CUTE photos, too!
we don't have anything on our agenda for the rest of this long weekend (well, nothing that i know about, anyway), so we'll see if we're lazy or productive or somewhere in-between. i kinda want to work on some stuff for the craft show in October (gotta work on it while i'm "in the mood") or maybe on some of my own scrapbooking (i went through all my photos last night and made a list – ala Elizabeth Wickland style – of all the layouts to create, layouts to finish, photos to print, etc….. it's a LONG list and pretty much impossible if I want to be "caught up" before this next baby is born)! but i digress…
since a post isn't as sweet without a photo, here's one of davey from last monday – pointing at his baby sister on the screen as we got ready to leave the office: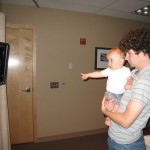 we didn't even tell him to do that…. he just started pointing on his own – like he wanted to know who it was or what was going on!