wednesday: july 9th
here are a few more photos of some layouts i made on monday: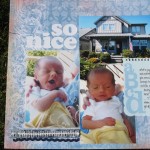 one at a time i'm working my way through my "list" of layouts to complete. my mom is coming out here on sunday night and is staying for about 10 days, so hopefully i'll make some good progress on my layouts list AND hopefully i'll get to sit at the computer to edit and upload photos for printing (among other things i hope to accomplish while she's here)!
i saw my OB (well, her assistant) yesterday – they were just checking the details of my ultrasound report – which were fine. baby girl's heartbeat was at 161 bpm (normal is 120-160), which is the same as at my last visit…. which means that all is well. and in case you're wondering, we DO have a name (first and middle) chosen for this baby girl…. but we're not sharing it… nor are we giving hints. hopefully i won't let her name slip between now and november!
and we received our first "gender specific" baby gift on monday – my friend shelly is so excited that we're having a girl and she bought baby dunkin a BATHING SUIT!!! it's got ruffles and flowers… i couldn't stop the "giddiness" in me when i opened the bag. I LOVE IT!!! so now i'm thinking about baby thank-you cards and baby announcements… i've got some good ideas for the announcements but i'm not sure about the thank-you cards yet.